Submitted by Brian on Thu, 2014-07-17 17:39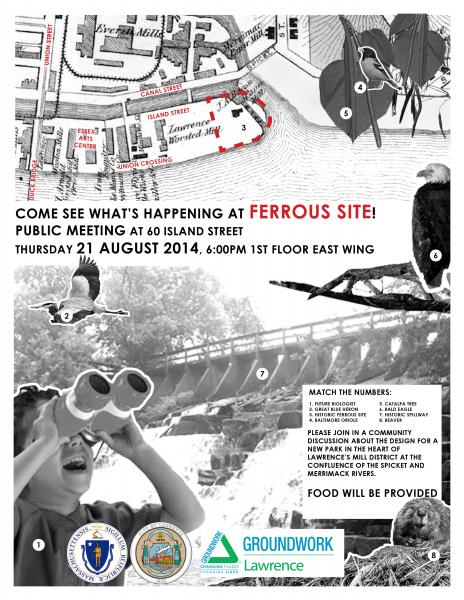 Date and Time
Thursday, August 21st at 6:00 PM
60 Island Street, 1st Floor East Wing, Lawrence, MA
(Parking available at 50 Island Street)
Please join a community discussion about the design for a new park in the heart of Lawrence's Mill District at the confluence of the Spicket and Merrimack Rivers. Food will be provided.
Background
For the past 15 years, Groundwork Lawrence (GWL) has been working in partnership with the City of Lawrence, the Commonwealth of Massachusetts, and with community partners to establish a park at the Ferrous Site.
The Ferrous Site is located at the confluence of the Merrimack and Spicket Rivers in the North Canal National Historic District. The North Canal and the lower locks waterfall (relics from Lawrence's industrialization) form the site's northern boundary. Constructed in 1845, this infrastructure, which has helped provide the water that powered the mills, was spread out over sixty-acres and supported the growth of Lawrence.
Today, the site is comprised of a large sand castings pile from a former foundry that has been colonized over the past 20 years with successional vegetation. This sand provides a wonderful opportunity to explore landform, remediation and restoration. With support from Governor Patrick's Signature Urban Parks program, the Ferrous Site will be restored to realize its tremendous ecological, historic and scenic potential.
The City of Lawrence, the Federal Government, the Commonwealth of Massachusetts, adjacent property owners, and most importantly, the community, have identified redevelopment of the Ferrous Site as a top priority. It supports city, state, and Federal redevelopment and economic initiatives that have been implemented over the past three decades to create a new gateway to Lawrence's North Canal District and downtown. More importantly it supports efforts to transform the entire North Canal mill district into a mixed use, healthy, thriving transit oriented development.
Community outreach for the project began in the late 1990s and gained momentum in 2002 when GWL, Lawrence CommunityWorks, and the City of Lawrence joined forces to launch the Reviviendo Gateway Initiative. At the same time the state implemented its Urban River Visions program in Lawrence, which helped the community develop the concept for the Spicket River Greenway with the Ferrous Site serving as the Greenway's capstone.
The design of the park at the Ferrous Site is currently underway. Groundbreaking will be held in the fall of 2014 with a ribbon cutting in June of 2015. Stay tuned for public meeting announcements!
- See more at: http://bit.ly/1nQllZI