Submitted by

Anonymous (not verified)

on Tue, 2009-06-02 16:27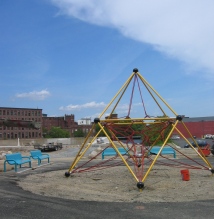 We have play equipment!
Lots of great work on site as we start to come into the home stretch. As you can see from this photo and tons more on Flickr the playground equipment is about fully installed. The safety surfacing still needs to be installed around it as well as the final coat of asphalt for the paved areas. The trees and landscaper could be on site very soon as well. The greatest news though is that the City of Lawrence received an additional commitment of funding from the EPA!
In addition to the colorful new park equipment and our turtle and bird friends, there are wild irises blooming along the pond edge as well as what may be marsh marigolds in the pond. What seemed to be a colorless sad site is really changing into something inviting, lush, and vibrant.
Previous posts and links: