Submitted by Amanda on Tue, 2016-01-12 13:57
Groundwork Voices From Yellowstone: Juana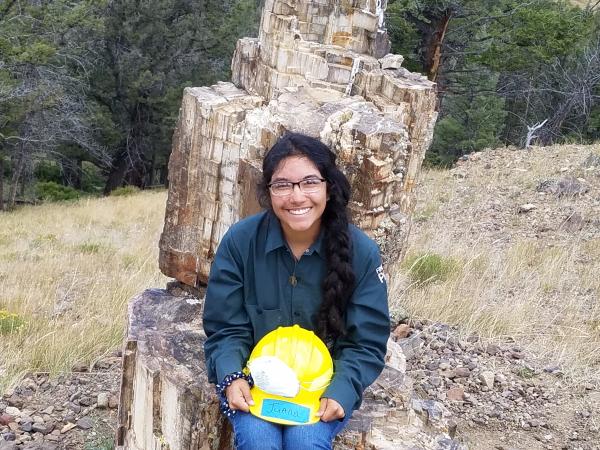 The hike up Yellowstone's Specimen Ridge from the Crystal Creek trailhead is challenging for even experienced hikers. The steep sandy slope makes the journey difficult, but the coveted views of petrified trees against the backdrop of a deep, wide valley filled with bison are definitely worth the arduous trek. Carrying tools and heavy metal signs to guide tourists away from eroded social trails certainly adds to the challenge, as does digging post holes into the rocky outcrop, but one worker seems to move at twice the pace of others. At 4'10", Juana Lopez, 16, remains a dynamo of energy the whole work day, scrambling around others as the call goes out for "pick-mattocks" or "shovelers!"
Juana started her conservation work at 13 years of age. She tells how her older brother was a former Green Team youth for Groundwork Lawrence, back home in Massachusetts, but how the real motivation for her start was hearing a comment from a neighbor that hit her hard.
"She told me that the streets are dirty, that no one cared, and that kids are just sitting at home doing nothing. I felt she was wrong and wanted to change her view on that," Juana exclaimed. She joined the Groundwork Lawrence Green Team and hasn't stopped working since.
Groundwork USA was founded in 2003 through a partnership between the National Park Service and the US Environmental Protection Agency. The organization engages local residents in marginalized communities across the US to improve the quality of life in their own neighborhoods through brownfields and urban waters reclamation and urban trail and greening projects.
Resting against a petrified tree, Juana reminisces. "We've done so much in Lawrence. We run a kite festival and help kids build kites and enjoy playing in the outdoors, we organize an Earth Day event and get nearly a thousand people out cleaning up the city, and we converted 17 vacant lots into pocket parks so people have a place outside to enjoy nature."
Juana's favorite accomplishment was building gardens in each of the local schools so that youth can grow vegetables and learn about healthy eating. "Groundwork runs a farmers market, and when I grow up I want to do culinary arts to teach others how to eat healthy organic food." With a maturity beyond her years Juana adds, "This way I can also help bring food justice and help alleviate 'food deserts' in my community"—a reference to the lack of green grocers in the inner-city.
We pause to look about the expansive valley below us: a breathtaking vista of a deep grassy valley rimmed by mountains. "I love coming to Yellowstone," Juana blurted. "My favorite part is seeing how happy others are when they see the large animals and learn that they are free to wander wherever they want."
Juana is spending a week working with Yellowstone National Park's Youth Conservation Corps (YCC). The program, a collaboration between the Park and Groundwork USA, was founded by Judy Knuth-Folts, Deputy Chief of Resource Education and Youth Programs, and Bob Fuhrmann, Youth Programs Director and Volunteers-in-Park Coordinator at Yellowstone. The crew is made up of 60 Groundwork youth from 23 different cities working on trail improvements and other such preservation efforts through the end of August. Juana added, "I think working with YCC is great because it helps you think about what you want to do in the future and gets you doing something outside your comfort zone so that you have new experiences."
Juana jumped up from her break and hurried off to work. I asked her if she had advice for other youth considering doing work in conservation. She paused. "Don't be afraid to try new things; you might end up loving it. There's a whole world out there to experience and the first step is when you decide for yourself to take action."
Submitted by Curt Collier, National Youth Programs Director, Groundwork USA
Groundwork USA is the only network of local organizations devoted to transforming the natural and built environment of marginalized communities — a national enterprise with local roots, working at the intersection of the environment, equity, and civic engagement.
Si Se Puede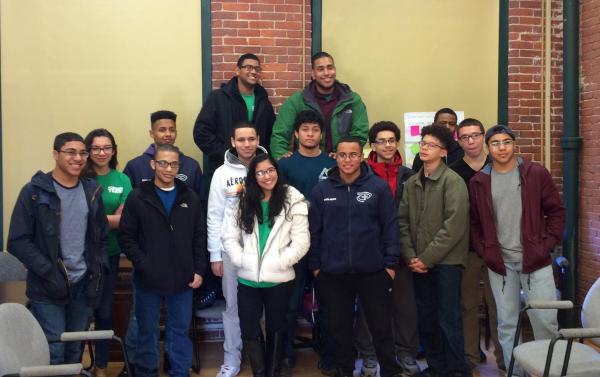 The meeting that took place between Green Team and Si Se Puede was an eventful day where we as Green Team learned what other youth think and do. As a Green Team member it feels at times that in the City of Lawrence we Green Team members are the only youth that face the problems of Lawrence head on. This feeling is largely attributed to the fact that we haven't really been exposed to other youth doing similar work and caring for the community as we do. While working with Si Se Puede we learned a lot about what the youth do in their organization as well as who they all are individually. It was interesting to learn of their personalities, quirks and their unique interests. Some were artists, some were athletes, some were prideful tech nerds. It was unique, interesting and exciting to realize that such a unique set of youth were also doing something similar to what we do with equal rigor and passion.
Jairo
White Mountains Hiking Trip
On the March 19 and 20, Green Team went on a trip to the White Mountains. We hiked Mt. Willard and to Arethusa Falls. Itwas a beautiful and immersive experience. Hiking to the top as a group was a great team building exercise. We worked on communication and cooperativeness. Overall it was a fun productive experience that we all benefitted from. -Vincent and Paris
More from other Green Team Members:
This experience was a memorable weekend. We did night hikes, saw a waterfall, laughed and joked. It is a weekend that I'll never forget.
Jade
This experience has allowed me to see that we need to take care of the environment even if there are people who don't care about it. This experience was difficult at times but it is what made it more intriguing. The mountain has its own way of life.
Juana
This experience was something new for me. I have never hiked before and doing this for the first time was mind blowing. I hope sometime I could do it again.
Carlos
This experience has brought Green Team together. We've gotten close with both our hiking trips and our night walk. And when we chilled out it was super fun to hear Jairo play the guitar and watch the rest of the boys play ping pong.
Dakota
I loved the whole experience; the mountains challenged me and pushed my body which I like. The views after all the hikes were all worth it. I had a great time up here, new exploration.
Almely
My experience on the White Mountain AMC trip was in one word revealing: it revealed so much about me that I did not previously know. It was revealed to me things about other people too. Overall it allowed me to establish a deeper bond with my co-workers.
Jairo
This trip was really unique and I really appreciate this because I love new experiences with people. Also, all that school-related stress is just kind of lifted. The scenery was gorgeous, glory to God.
Jean
This weekend was a wonderful experience. Had to strain to hike the first day and a much less difficult hike on the next day. The trip was fun from when we got there, to when we left; the experience is something I would love to experience again.
Francisco
This has been a very beautiful and eye opening experience. The beautiful mountains brought me metaphorically closer to the Earth while bringing me literally farther. On top of that the relationships built with my fellow co-workers have also been helpful and inspirational.
Francis
This weekend at the AMC Highland Center was a great experience to see wilderness how I've never seen it before. We climbed 2,865 ft. to the top of a mountain that had a beautiful view of trees, the highway, and the different mountains in the distance. I feel like Green Team connected as a whole for how much we looked after each other on the hike.
Vincent
Beautiful Evening
Today we talked about the importance of interviews and resumes. The view was amazing. -Francis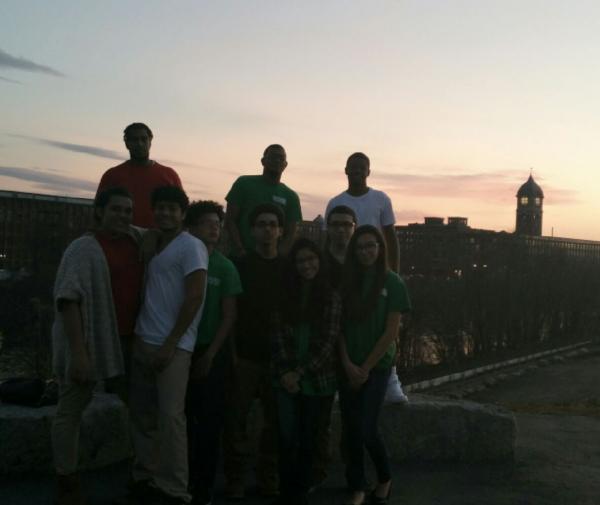 Green Team Leader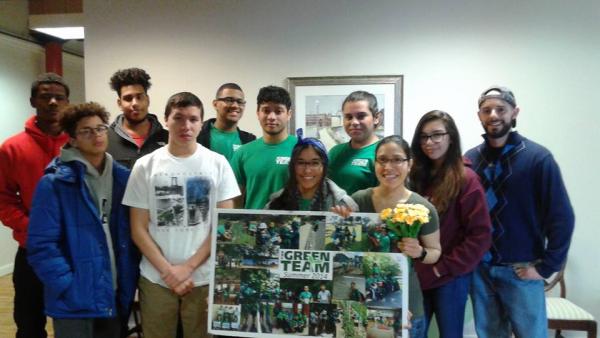 I took over managing the Green Team in October 2015, and I've had an amazing time. Every week we explore new and diverse topics in environmental science, food justice, and community engagement. We've gone rock climbing, followed the events of COP21, played team building games at a local park, attended farming conferences, and developed this blog too! I'm excited for what this year has to bring. Now that winter is winding down, we're getting ready for the busy part of our year! Stay tuned as we begin work on our urban farm, Costello. We're also collaborating with Si Se Puede on career development. And we're very excited to be taking a trip to the White Mountains later this month!
-Veronica
Arnold Arboretum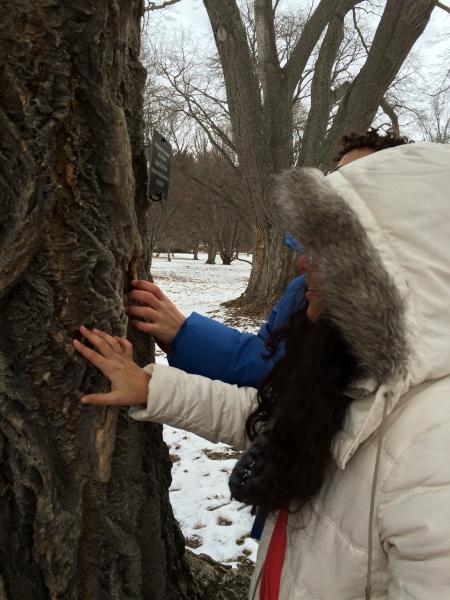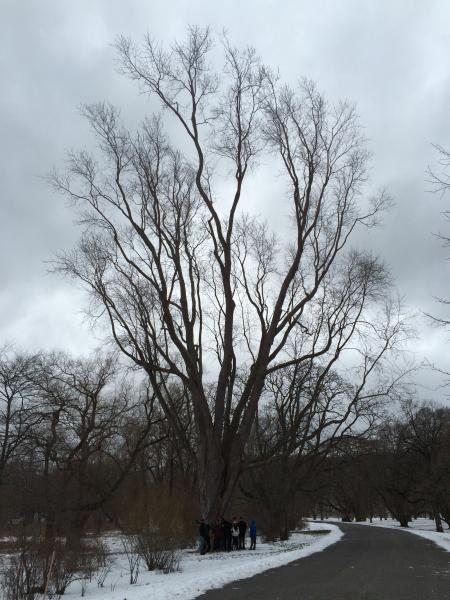 Arnold Arboretum was a wonderful way to connect with nature on our cool walk through the park. We enjoyed the beautiful snow covered foliage as we embarked on a treasure hunt to find the century old trees. The presentation gave me deep insight on our climate, how it affects plants, and what I can do to help as well as what other people are doing. Overall this was a fun educational experience and I hope to continue to attend trips such as the one to Arnold Arboretum. - Francis
Yellowstone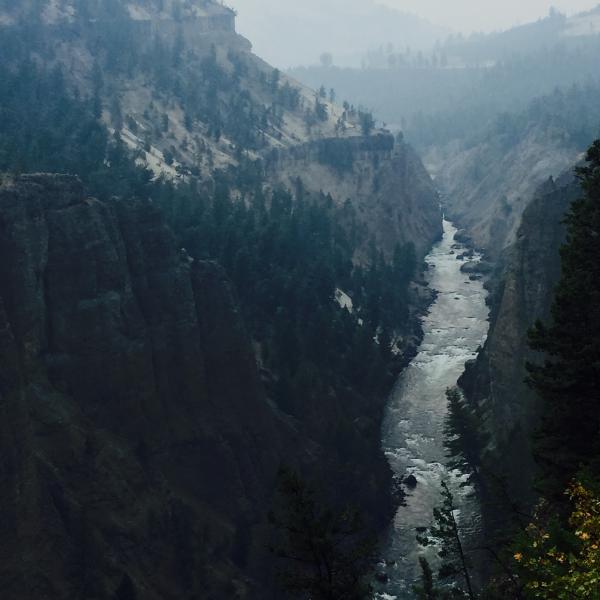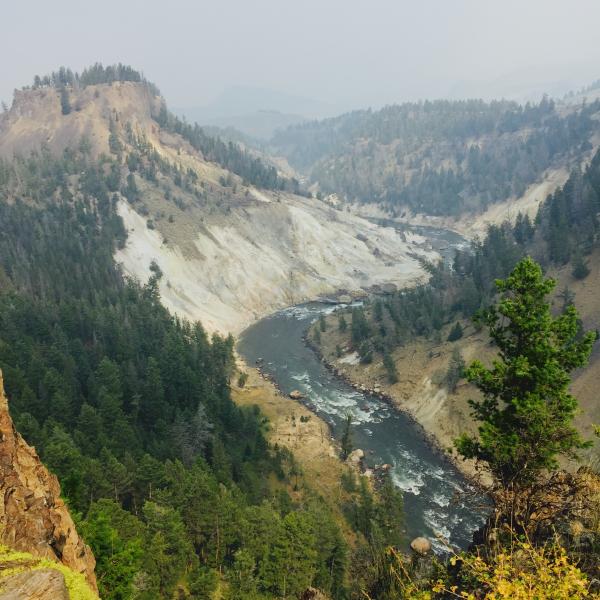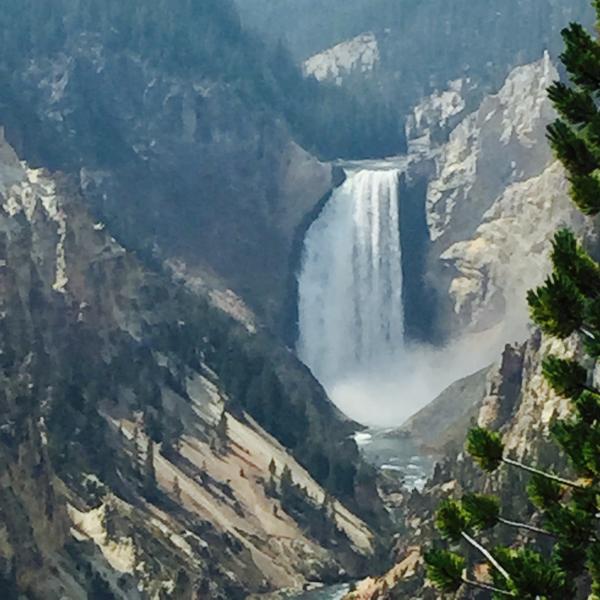 Every year Green Team picks four members, two girls and two boys, to spend a week in Yellowstone National Park. In 2015, we were some of the lucky ones chosen to go. Two planes and a six hour flight brought us to the YCC (Youth Conservation Camp) camp site. There were twelve other Groundwork Green Team members in groups of four just like us, and within a day we all became close friends. We met kids from all around the country: West Virginia, Washington D.C., Denver, New Mexico, Somerville, and Hudson Valley. We visited tour sites like the waterfalls, the colored river, Mountains, and Old Faithful. We also worked: building tent pads so campers have an even area to set up camp, making bear boxes as a safe place to leave garbage, building social trails, and making trails safe from mud slides. We made areas safer for travelers and hikers. At the end of each day the whole team would eat an amazing dinner by our chef, who always said a quote before we ate. After digesting our food we would go on a night hike, learning about animals like wolves or deer. -Lyn and Vincent
Our leader said that we leave a part of us in Yellowstone and none of us thought it was true until our time was up and we had to leave. I will always miss this place. -Lyn
Some of my best friends in Yellowstone were from Washington D.C. and Hudson Valley. I actually still keep in touch with them and see how life's been for them every now and then. It's almost as if we've known each other since we were kids. -Vincent
Glow Gala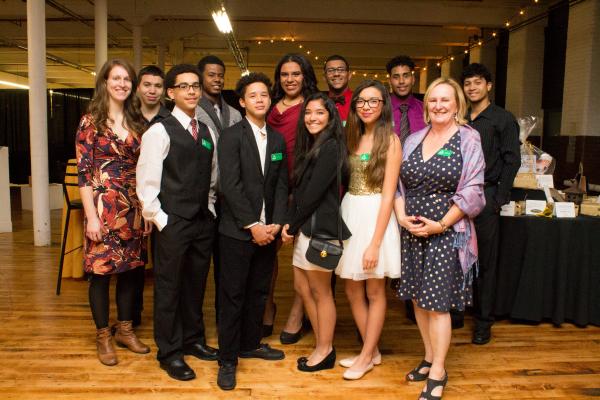 On the night of November 19, 2015 Groundwork Lawrence hosted the Glow Gala. Green Team was split up into groups to complete different tasks before and during Glow Gala, such as greeting people at the door and directing them to the event space. There were multiple events during the Gala, such as the silent auction of eco art, which is a great way for local artists to get noticed. There were also some cool items, such as signed pictures by Ben Affleck.
One of our Green Team members, Jean Santana, got the opportunity to give a speech describing the Green Team and what our mission is. Jean was very nervous throughout the night but once he got up on stage all that nervousness disappeared. I want to congratulate Jean once more, and thank everyone for coming. -Almely and Dakota
New Year, New Me!
That's usually the phrase that we use to celebrate the clean slate given to us in the new year. Green Team is no different. In the weeks leading into January, the Green Team had the opportunity to hold conversations amongst ourselves about the hunger crisis striking the homes of Americans. A problem that many of us would assume wouldn't affect us especially living in the United States. We also discussed the 2015 Paris Climate Conference. We held many meetings regarding our environment, the future of our environment, and the politics surrounding the environment. All these discussions outline the future for 2016 Green Team and is part of our ultimate goal in Groundwork Lawrence: to instill a sense of ownership of our community and environment. By instilling that sense of stewardship in our youth, we in essence create leaders of the community and the environment.
In 2016 we'll be creating those leaders as well as understanding the viewpoints of other youth with similar interests. We'll mix 'em, stir 'em, and create an entirely new recipe, a recipe that will be passed on and added to. As a young man, I will strive to create and better our community through hard work and collaboration. And as the Green Team we will take our lessons outside of the office and into the City of Lawrence. ­
- Jairo
Introducing Green Team 2016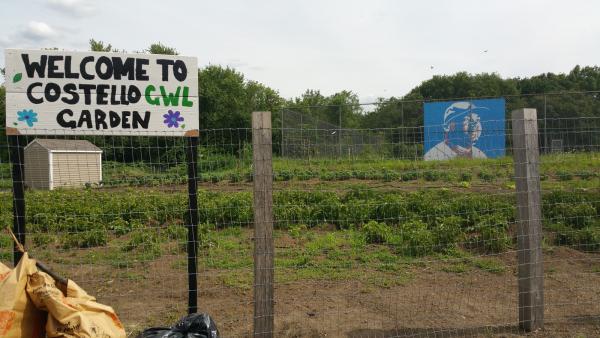 The Green Team is a youth program that forms part of Groundwork Lawrence, which is a non­profit organization. It's not just a job; it also has volunteering services. The Green Team teaches us about preserving land, urban farming, community outreach, public speaking, stewardship, rebuilding abandoned places into public parks, and leadership. Not only are we gaining skills, we also have the opportunity to travel across the country
and see the natural environment; we've traveled to Yellowstone, the Rockies, Shenandoah, and the White Mountains. We also had the opportunity to go to conferences, such as the GWUSA Youth Summit in Denver, Colorado. Through Green Team we are gaining the opportunity of new career paths.
The Green Team also showed me and the other teens how to take care of the community by cleaning up streets and parks. We also learn how to grow and harvest crops from our local farms and sell them at the farmers markets. One of our successful farms is called Costello Farm. The Green Team also helps organize community festivals, such as the Greenway 5K, Spicket River Clean­up, and Earth Day. In conclusion, the Green Team is a way to show future leaders a path that can help change our lives, their lives, and our environments.
­ - Juana