Submitted by

Anonymous (not verified)

on Wed, 2009-07-29 17:48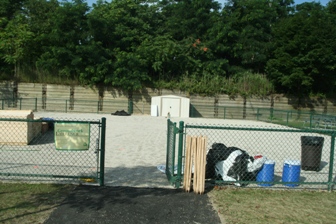 The tally for the day was 40 volunteers, over 10 bags of ice, 65 yards of soil, over 2300 feet of lumber, over 1000 screws and almost as many nails! There are also some uncounted donated energy drinks, gasoline trips, water runs, and recycling. Our fantastic volunteers built 26 garden beds for vegetables and joy to grow in and we thank them so much.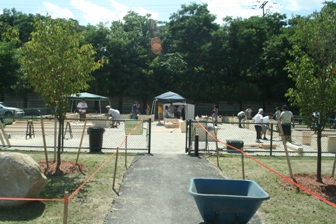 Special thanks go to
MA office of Refugees and Immigrants and the City of Lawrence Community Development Department for funding the material and supply costs.
Home Depot Reading for providing volunteers and rented tools free of charge as well as Home Depot Methuen for adding additional drill power to the day.
Tennis Lilly for extra (and much needed) generator power.
Heavenly Donuts for coffee and donuts in the morning.
Bruckman's Lawn and Garden for plants for the beds.
New Balance, TRC Solutions, TEC, Community Development Department, Arlington Community Trabajando, The Plus Company, and Groundwork Lawrence Green Team for volunteer labor and all the other volunteers who worked so hard and brought their tools for use for the day, we could NOT have done it without you!