Submitted by

Anonymous (not verified)

on Wed, 2009-08-26 14:37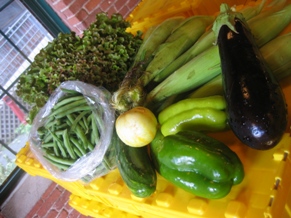 Regular Share August 25
The CSA distribution yesterday was full of activity. Most everyone got to meet Bruce who will be taking over for Kemi since she is leaving us to go back to school. Also, the shares this week had a lot of "extras" - items not in your bin but that you could pick and choose from to suit your tastes and needs. I know that my family picked a LOT of the jalapeños but no summer squash -my coworkers think my tastes are odd. It makes for a little bit more confusion at pick-up but we appreciate everyone's patience! Also the regular shares had "lemon cucumbers" in them which confused many folks and they chose not to try them out. One super share member (super shares had received them last week) thought it was an early squash so she stuffed and baked it and said it tasted great! We hope the CSA allows you to eat healthily, in season and locally, but that it also opens up your taste buds a little!
"Extras" in this week's harvest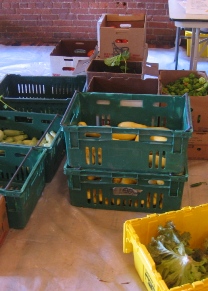 Sadly, this is our last week with Kemi, one of our summer interns. She and Yashira worked fantastically together and for Groundwork all summer. We will miss them both and wish them the best back at college in the fall (Providence and Holy Cross) - smart ladies!