Submitted by

Anonymous (not verified)

on Tue, 2009-09-15 16:40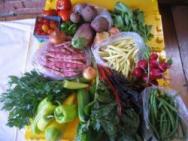 We have a busy week and an especially busy day Wednesday September 16! Join us at the press event at the Farmers Market at 1pm to join Commissioner Scott Soares (Department of Agricultural Resources) and Commissioner Julia Kehoe (Department of Transitional Assistance) for a special announcement about a new partnership to bring increased EBT access to Massachusetts Farmers' Markets, followed by a free cooking demonstration. Read more here!
Then come with us to Manchester Street Park for the Ribbon Cutting at 3pm. Join us with Mayor Sullivan in celebrating the opening of the newest gem on the Spicket River Greenway!
Today I caught up on CSA Newsletters on the website-so I hope you haven't missed anything, you can also join our eNews mailing list here .
Saturday is the 8th Annual Spicket River Cleanup! Join us at 9 a.m. at Manchester Street Park!