Submitted by

Anonymous (not verified)

on Fri, 2009-12-04 12:30
Lawrence Youth participate in Groundwork USA Youth Summit in New Orleans
Support GWL's youth members and programs at the Glow Gala, Dec. 10, 2009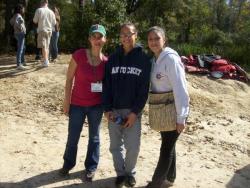 New Orleans, LA. November 13, 2009 - Two youth from the Groundwork Lawrence Green Team, a year-round environmental stewardship program that offers part-time, paid employment for 10 Lawrence high school students each year, joined an assortment of 80 youth, Groundwork Executive Directors, National Park Service staff, and youth Green Team leaders in New Orleans, Louisiana to tour the City, explore nature, take part in a service project, and to share experiences about their cities as the Groundwork program continues to grow across the country. Download the press release.
Organized by Groundwork USA, a 501c3 non-profit which assists local Groundwork Trusts, the weekend brought youth and supervisors from throughout the US to the site of one of the worst weather disasters to hit the country. Groundwork USA was initiated by a grant funded in partnership with the EPA and the National Park Service Rivers and Trails Assistance program to address challenges in urban and rural communities, focusing on youth, communities, with the foundation of improvements relating to, but not limited to, the physical environment.
Jennifer Pagan, a senior from Lawrence High's Humanities and Leadership High School and Roselly Genao, a junior at Central Catholic, exhibited a tireless presence throughout the weekend. They were accompanied by Rose Gonzalez, Education Program Manager and Green Team leader, and Heather McMann, Groundwork Lawrence Executive Director. After touring Cane Bayou and Lake Pontchatrain by canoe, the group travelled directly into New Orleans to study the ongoing efforts to relieve the devastation brought to the area in 2005 by Hurricane Katrina, and to see the improvements that the GW New Orleans program has made in the city. On Sunday the group participated with volunteers from the local community and the EPA in a service landscaping project on the grounds at Andrew Wilson Elementary school, located in the Broadmoor section of New Orleans. The school had been devastated by flooding and is now being readied for a mid-winter opening after more than four years of restoration.
Rose Gonzalez said, "It became clear in New Orleans how fragile an environment and its people can be when hit with a catastrophe like Hurricane Katrina, but also how resilient a habitat and the incredible resolve and strength the people in the community had not to give up but instead work hard to ensure that they rebuild their lives and their community after such a catastrophe. Our youth were amazed and inspired by the work of Groundwork New Orleans which is currently building rain gardens into streetscapes to improve water quality and divert storm water management and the "Make it Right Project" rebuilding homes that are affordable, green and storm resistant."
Heather McMann was excited that for the third year in a row GWL was able to attend the GWUSA Youth summit. "We work very hard here in Lawrence to improve the physical and social landscape," said McMann, "and these visits allow us to share our experiences with other Groundwork programs and to learn from them as well."
After the youth summit, the Groundwork Trusts met at the New Orleans Convention Center for the EPA National Brownfield's Conference of 2009. Many of the goals for the Groundwork program involve working in and improving Brownfield properties, land that was formerly used for industry. GW Lawrence has worked with the City of Lawrence to transform two brownfield sites into great parks along the developing Spicket River Greenway, Dr. Nina Scarito Park (2006) and Manchester Street Park (2009). Lisa Jackson, the Administrator for the Environmental Protection Agency explains, "The National Brownfields Conference is an opportunity for innovation and collaboration on some of our nation's greatest environmental and economic challenges." More information about the EPA's vision for the future of Brownfields and on the 2009 conference is available at www.brownfieldsconference.org .
Groundwork Lawrence, Inc. a 501(c)3 non-profit organization, has been making change happen in Lawrence, Massachusetts since 2001. Through its environmental and open space improvements, community food programs, youth initiatives, and educational programming and events, Groundwork Lawrence creates the building blocks of a healthy community, and empowers Lawrence residents to improve their quality of life. Groundwork Lawrence achieves results by engaging the whole community - residents, non-profit organizations, city government and businesses - in the planning and realization of its projects. With this collaborative approach, Groundwork ensures that all stakeholders are mutually invested in its outcomes, the key to stable neighborhoods and sustainable change.
Groundwork Lawrence is part of Groundwork USA (www.groundworkusa.org), a growing national network of Trusts working to stabilize and revitalize neighborhoods in older industrial cities across the US.
To support the Groundwork Lawrence Green Team and other Groundwork programs please join us at our Glow Gala and Annual Fundraiser on Thursday December 10 from 6:30 - 10:00 PM at Chester's located at 60 Island Street in Downtown Lawrence. Purchase tickets online at: http://groundworklawrence.org/glow or at the door.
For more information on Groundwork Lawrence or Groundwork USA visit www.groundworklawrence.org or www.groundworkusa.net .