Submitted by Heather on Sat, 2009-12-05 11:21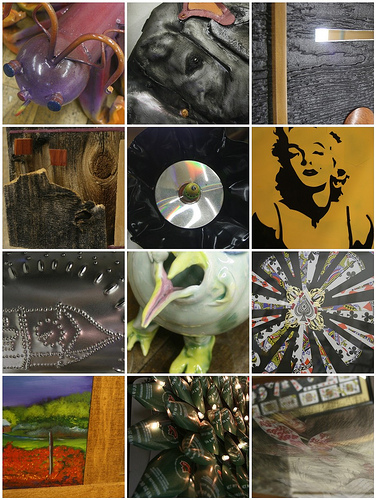 I want to thank the artists that submitted eco-art for this year's Annual Glow Gala and Fundraiser. All the submitted art was excellent and I know the jury had a hard time selecting the pieces to include for the silent auction. I want to especially thank and congratulate Rebecca Veilleux's students for doing wonderful eco-art projects. While we couldn't include all the pieces, we were impressed by the thoughtfulness, creativity and inspiration they exhibited. Rebecca is a Biology teacher in the Humanities and Leadership High School at Lawrence High and a Board member of GWL. Below are a few quotes from Rebecca and her students about the eco-art projects.
"For my Urban Ecology classes, I wanted the students to do a project that had a greater outcome than just a grade. It is important that our youth have a connection to their community and get involved. The Eco-Art project is more than just creating a piece of art out of trash, it's about how the City of Lawrence is clearly moving in a more positive direction because of great non-profit organizations, like Groundwork Lawrence. I want my students to be part of this positive change, so they will go home and share that knowledge with their friends and families with hope that it is contagious. I believe that expressing what they are learning about nature, sustainability and conservation through eco-art is meaningful to them and they are taking ownership for their learning. As an added bonus, students with exemplary pieces have the opportunity to auction off their art, just as professional artists do. Half of their proceeds will go to Groundwork Lawrence."
~ Rebecca, Teacher, HLD, Board Member, GWL
"I've never been asked to create something from recyclable material or anything like that before the "Eco-Art" project. It was a lot of hard work to put our creation together, but it was definitely worth it. While looking for the materials for my project, I realized how much of an impact I can have on the Earth by just creating something out of trash that sends a message to people to help our Earth."
~ Eva, Senior, HLD
"I've been attending the Glow Gala for four years as a member of GWL's Green Team. This the first year I submitted an art piece. The pieces chosen for the Gala has inspired me to create a piece of my own using recycled materials and trash from the curbside. It has made me aware of how a simple object can be transformed into a masterpiece."
~ Jennifer, Senior, HLD and GWL Green Team Member
"This was an excellent experience for me, as well as my group members. We used an old poster to paint a picture of the solar system, displaying the beauty of our Earth. I have always been creating artwork using spray paint as a medium. I t had never occurred to me about the possible damage I was causing by using spray paint. For this project, our team used an eco-friendly brand of spray paint, Krylon H2O Latex paint, which is low in VOCs. Through this project, my group and I learned the urgency of preserving our world. We realized that any small gesture made in an attempt to help reduce, reuse, or recycle can impact our environment greatly. It was once a common belief that the world was much too large for the human population to make an impact on its well being, however, after taking this course, and participating in this project, we learned that we are a major factor in the longevity of our planet. It is our own personal duty, to do anything in our power to help preserve the Earth. Half of the proceeds made from the painting will go directly to Groundwork Lawrence; it makes me feel good knowing I will help contribute making positive changes here in Lawrence. This was a great experience, and we hope our artwork inspires others to help us on our crusade to improve the well being of our planet, Earth."
~Thuan, Senior, HLD
"From trash to beauty, an old stop sign I have used as a decoration in my room is now a piece of beauty. I feel great that I am giving back to the community and helping Groundwork Lawrence raise money. With this project I tried a new method of art, I create a lot of digital art on Photoshop but this project was a great chance to challenge myself to do some hands on art. During the process of making this project, the experience has changed how I think about recycling and conserving energy. It took me about two hours to finish the piece of art. During that time I realized I can be more eco friendly by working outside to save energy and I can use Krylon Low COV spray paint, which reduces the harmful gases contained in the paint."
~ Richard, Senior, HLD