Submitted by

Anonymous (not verified)

on Mon, 2010-03-01 18:28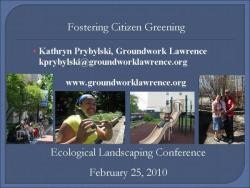 I spent last week Thursday at the Ecological Landscaping Conference. I was speaking in the afternoon about Groundwork Lawrence, our programs and our efforts in greening the community and making it a more sustainable one. I had a great time attending lectures and visiting the Eco-Marketplace. The diversity of workshops was great and really speaks to the diversity of ideas, creativity, and solutions to problems of human caused climate change, depleting groundwater levels, and lack of tree diversity (among other topics). You can check out the full range of workshops on the Ecological Landscaping Association website here.
I had some great questions at my talk and because our work at Groundwork is so encompassing, I find it difficult knowing where to focus when I speak to groups. I didn't really talk about our Youth Program, the Green Team, except in passing but they are a major component and driver of our programs. I spoke mainly about park projects we have completed, the Spicket River Greenway and our alleyway and vacant lot initiatives. Some great questions and discussions during the talk, and that we at Groundwork continue to struggle with, were focused on volunteers - specifically the role of large volunteer contingents in creating sustainable place-based project developments.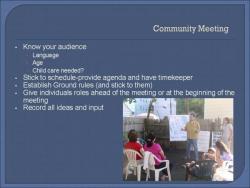 I also spoke about what it means to do outreach to a community and how to engage individuals and groups in community meetings. I think one important point is that people don't like meetings! However, people like food and they deserve respect-respect of their time and of their opinion. I love that here in Lawrence I have learned a lot about the importance of a diverse range of outreach as well as the strengths and weaknesses of the internet. In Lawrence folks watch cable access, read the Trib and they find out about events from their friends and colleagues. Knowing the methods of information dissemination (as well as language) is key in gathering necessary public opinion.
A woman asked me near the end of the talk – "what is the role of the landscape designer?" I answered her by discussing the importance of a skilled designer and meeting facilitator being able to understand what the community wants to see in their public space and distill it on to paper in a public meeting format. Another important aspect is budget (obviously) and being able to separate out parts of the design or project into pieces that can be done with creative fundraising or in the public bidding process with add-alternates. The other thing I talked about is recognizing the lack of maintenance that your project is going to receive(or not receive as the case may be). In many cash strapped cities low maintenance parks are what you are going to have whether you design them with that intent or not so it is important to know what that is going to mean on the ground.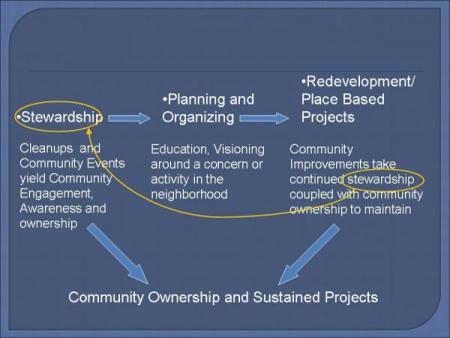 Of course, one always comes up with more answers once your brain is able to percolate on it a bit. I realized one thing I should have added is that the designer (be they engineer or landscape architect) needs to recognize and respect the role of the community in the process. The community may not necessarily be represented by the Owner in a municipal project either which is an important distinction for the designer to understand. In our case we are generally talking about parks and other forms of public open space; a beautiful design is only totally successful with use and activity by the people it is built for.
Thanks to the folks who came to hear me speak on creating sustainable communities. It was a pleasure and an honor to share good news out of Lawrence.