Submitted by

Anonymous (not verified)

on Wed, 2010-05-26 16:28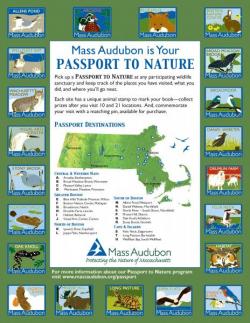 Everyone's Invited to Mass Audubon's FREE Discovery Days
Join Mass Audubon for free fun-filled Discovery Days at select wildlife sanctuaries across the state with special activities for all ages. All Discovery Days will be held on Saturdays from 10am to 3pm, rain or shine.
Drop by and bring your family and friends – everyone gets in free! For more information, visit www.massaudubon.org/sanctuaries or download the flyer (English).
Discovery Day Destinations and Schedule
May 22, 10am – 3pm
Joppa Flats, Newburyport
Birding and Seashore Adventures
Discover birding on the Parker River National Wildlife
Refuge, hunt for treasures on Plum Island's seashores, and hold live sea creatures from our touch tank aquarium.
June 5, 10am – 3pm
Wellfleet Bay, South Wellfleet
Spring Wildlife by the Bay
Go on an adult and kid-friendly guided tidal flats walk to seek out and tag horseshoe crabs, and join a scavenger hunt along Bay View Trail in search of native plants and animals.
August 7, 10am – 3pm
Wachusett Meadow, Princeton
Historic Farming Exploration
Explore the history and construction techniques of our
200-year old house and barn, make (and eat) hand cranked ice cream, and hike along one of the area's longest stone
walls that leads to an ancient hickory grove.
September 11, 10am – 3pm
Ipswich River, Topsfield
River and Wetlands Investigation
Take a guided canoe paddle up the Ipswich River to look for turtles, birds, and muskrats; walk to a beaver lodge; discover pond creatures; and explore the famous "Rockery."
October 2, 10am – 3pm
Oak Knoll/Attleboro Springs, Attleboro
Attleboro Springs Wildlife Sanctuary's
Grand Opening
See a live owl presentation, participate in hands-on ponding demonstrations, take a natural history tour, and make a fun, nature-inspired craft.
October 16, 10am – 3pm
Arcadia, Easthampton
Fields and Grassland Discovery
Explore an unvisited part of the sanctuary, catch
grasshoppers, build bluebird and American kestrel boxes,
and see live birds up close.
October 23, 10am – 3pm
Blue Hills Trailside Museum, Milton
Wildlife's Winter Preparations
Learn what happens to our local wildlife during the winter months. Hourly programs and activities will feature live
native animals.
Aproveche la oportunidad de visitar a Mass Audubon en días gratuitos, estos están llenos de diversión.
Podrá descubrir la vida silvestre que existe en algunos de los santuarios a través del Estado. Habrán actividades especiales para todas las edades.
Los días indicados en este programa serán llevados a cabo los sábados de 10am a 3pm, con sol o lluvia. Por favor tenga presente que los programas y materiales en estos días estarán en inglés.
¡Aparézcase y, traiga a toda su familia y sus amigos – todos podrán participar sin costo alguno!
Para más información, visítenos en www.massaudubon.org/sanctuaries o llame al 781-259-2175.
5 de junio del 2010, 10:00 a.m.- 3:00 p.m.
Bahía de Wellfleet, South Wellfleet
La Vida Silvestre de la Bahía en la Primavera
Adultos y niños podrán participar en una caminata guiada para buscar y marcar a los cangrejos herradura (Horseshoe crabs) y etiquetarlos. Luego, descubra a lo largo del sendero "Bay View" las plantas y los animales nativos.
7 de agosto del 2010, 10:00 a.m. – 3:00 p.m.
Wachusett Meadow, Princeton
Exploración Histórica de la Agricultura en la Zona
Explore las técnicas agrícolas usadas históricamente y la construcción de nuestra Casona y el Granero, el cual tiene unos 200 años. Luego, prepare (y coma) el helado que ha hecho manualmente. Camine a lo largo de una de la pared de piedra más larga del área, la cual lo llevara a una vieja arboleda de nogales.
11 de septiembre del 2010 - 10:00 .m.- 3:00 p.m.
Ipswich River, Topsfield
Explorando el río y los humedales
Tome una canoa y reme río arriba en el Rio Ipswich. Luego, camine para observar la morada del castor, descubra a las criaturas de la charca, y explore el famoso "jardín de rocas."
2 de octubre – 10:00 a.m. – 3:00 p.m.
Oak Knoll y Attleboro Springs, Attleboro
Celebre con nosotros la gran apertura de "Attleboro Springs" un santuario para la vida silvestre en la Sallette.
Vea una presentación en vivo de un búho, participe en demostraciones interactivas en la charca, tome un viaje de la historia natural, y diviértase, haciendo manualidades inspiradas en la naturaleza
16 de octubre del 2010 10:00 a.m. – 3:00 p.m.
Arcadia, Easthampton
Descubriendo los Prados y Pastizales
Explore una parte nunca visitada de nuestro santuario, capture saltamontes, construya cajas para los azulejos y los cernícalos americanos, y vea otras aves vivos de cerca.
23 de octubre del 2010 10:00 a.m. – 3:00 p.m.
Blue HillsTrailside Museum, Milton
La Vida Silvestre se Prepara para el Invierno
Aprenda acerca de lo que le sucede a nuestra fauna local durante los meses de invierno.
Los programas y las actividades se ofrecerán cada hora e incluyen animales locales vivos.
EIAinsurance.com es el Patrocinador de estos eventos para Descubrir a Mass Audubon.
Descubra cuanto se ahorra en seguro para automóviles con la "Environmental Insurance Company", una "compañía verde." Obtenga una cotización gratuita en www.EIAinsurance.com llamando al 877-999-9342. ¡Para los miembros de Audubon ofrecemos 10% de descuento.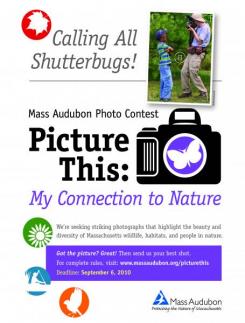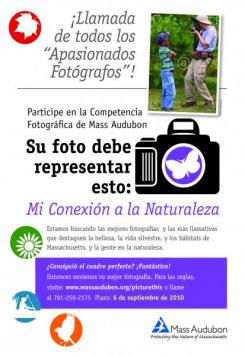 Check out the Mass Audubon Photo Contest! Information on their website.