Submitted by

Anonymous (not verified)

on Thu, 2010-05-27 14:14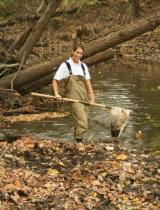 This award is given in conjunction with the New England Farm and Garden Association. Please check below for a summary of the accomplishments and contributions these teachers do in their schools to help advance the educational system of the Commonwealth.
Congratulations Rebecca, we are so proud to have you as part of the Groundwork Lawrence Team!
High School
Rebecca Veilleux
Lawrence High School, Lawrence, MA
(High School)
Rebecca believes it is crucial for students to learn by exploration, using hands-on activities whenever possible. She teaches biology in her classroom, but uses an expeditionary learning approach to take her students out into their community for maximum enrichment. Rebecca helped a group of students form a nature club, aimed at studying biodiversity of a local river and creating environmental awareness. Students were encouraged to share the results of their study with the community. Ultimately, they attended an international youth biodiversity symposium in Mexico, opening their eyes to environmental issues beyond. This led to river clean-ups and eventual involvement with a local non-profit environmental organization. Rebecca demonstrates commitment and innovation by obtaining grants to bring in technology to the school, and to fund field trips. For example, students are able to go to a field station on Nantucket to study marine ecosystems. They also learn history and culture, and use poetry to tie their whole experience together. Back in the classroom, Rebecca has also developed an elective course, "Urban Ecology," which engages students to go outdoors and see their city as an ecosystem. The class also teaches about current environmental issues, such as energy conservation and sustainability. Many students lead their peers and families to recycle and understand the importance of "being green" at Lewis and Clark University, and Lawrence Erlbaum Associates published her presentation.
Other winners:
Ross Wilson
Dennis C. Haley Pilot Elementary School, Roslindale, MA
(Elementary)
This school principal and former elementary teacher deserves to be recognized for his commitment to place-based and environmental education in Boston. Ross led the effort to bring the Haley School to pilot status, allowing for more flexibility with curriculum and instructional methods. The vision was for the students to do high-level thinking and writing while using local resources (schoolyard, community areas) as curriculum. This was developed with help from Mass Audubon's Boston Nature Center, where Haley School teachers were challenged to examine state standards and come up with creative ways to bring them alive for students. Ross has ensured that the schoolyard can be used as an outdoor classroom, with a master plan for it to include sustainable environmental features as well. Not only do students focus on their local environment, they are encouraged to take positive actions in their communities as well, such as creating water conservation awareness posters or feeding birds in winter. For Ross, it's also just as important that students think critically as it is that they engage with their surroundings. His school aims to create graduating classes with a deep connection to the world around them, along with the tools for further investigation and stewardship of the Earth.
Terence Regan
Minuteman Career and Technical High School, Lexington, MA
(Vocational High School)
Terrence has taught in the Environmental Technology program for 11 years. With professional expertise in geology, limnology, land-use planning, hydrology, and environmental site assessment and remediation, he brings a vast array of knowledge and skills to his classroom. In addition, Terry's students have had invaluable opportunities to work collaboratively with environmental industry partners at local, state, and national levels. Such collaborations have taken students out of the classroom and into the community, gaining valuable skills and important experience for future environmental and conservation careers. Projects have included water quality monitoring, salt marsh habitat studies, beach profiling, vernal pool certification, and integrated pest and invasive species management. Also, because of his professional experience in the environmental consulting field, Terence provides a unique career-based learning environment for his students, with classroom projects and assignments that model an environmental consulting business. Terry always strives for leadership and occupational excellence at his school, and truly exemplifies learning beyond the classroom.