Submitted by

Anonymous (not verified)

on Fri, 2010-06-18 09:52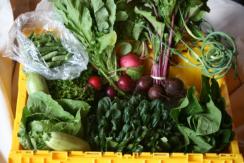 The first day of CSA pickup was a success! On Tuesday our CSA members were greeted at pick up by an array of fresh vegetables straight from the farms. The selection included beets, radishes, peas, and a variety of greens and lettuces. We would like to thank everyone for their cooperation during this initial pickup, especially to the staff at Farmer Dave's and Deb Gurry and her staff and at the Clock Tower Café! As the first participant in our Beets&Treats Program, Clock Tower Café, provided delicious homemade lemonade, banana bread and cranberry-walnut chicken salad for our CSA members to sample.
Many of our CSA members were curious about the Tatsoi that was included in the share pickup. To help you get an idea of how to use the Tatsoi, we have included the following tasty recipes:
Chilled Wilted Tatsoi Salad with Sesame-Ginger Dressing
(Makes about 2 servings, recipe adapted from Big Oven, who got it from the New York Times.)
10-12 ounces Tatsoi leaves
sesame seeds, for garnish (I used a mix of black and white sesame seeds, but you can use whichever type you have)
Dressing:
2 T soy sauce (I used Tamari)
1 T rice vinegar (not seasoned)
1 tsp. grated ginger root
1 tsp. sugar or Splenda (use Splenda for the South Beach Diet)
1/2 tsp. Sriracha (or other types of Asian hot chile sauce would work)
fresh ground black pepper to taste
Bring a large pot of salted water to a boil, and fill another bowl with cold water and a handful of ice cubes. Wash Tatsoi leaves (I used a salad spinner) and cut into thick strips. Dump Tatsoi into boiling water, time for exactly one minutes, then drain immediately into colander and dump into bowl with ice water. (I used used the salad spinner again for the ice water.)
While Tatsoi is cooling in ice water, get a plastic bowl with a tight fitting lid that's large enough to hold all the Tatsoi. Mix dressing ingredients in this bowl, then drain Tatsoi well and add to dressing. Chill in the refrigerator an hour or more, turning bowl over a few times so Tatsoi remains coated with the dressing.
To serve, use tongs or a slotted spoon to remove Tatsoi from bowl and arrange on serving plates. Toast sesame seeds for 1-2 minutes in a dry pan and sprinkle over salad. (If using a mixture, the black seeds burn more quickly than the white ones.) Serve immediately.
I ate half of this and kept the other half in the fridge for a day. It was still okay the second day, but much better freshly made.
This printable recipe from KalynsKitchen.com .
Quick Garlic-butter Tatsoi and Shrimp Pasta
Submitted by CSA Member Kelley Lawrence
1/2 package whole wheat pasta (I used Fusili)
all the leaves from your bunch of Tatsoi
2 garlic scapes (chopped small)
1/2 stick of butter
1/2 cup shredded cheese (I used white cheddar, parmesan would work too)
2 dozen shrimp (or other protein of your choice)
1/4 tsp sage
salt and pepper to taste
- start the pasta water in a pot on the stove, add and cook pasta when it's boiling
- while you wait on the pasta, rinse the veggies then chop up the garlic scapes and tear off the leaves of the tat soi and pat dry
- prepare your shrimp (or other protein as well)--I just run water over my frozen, uncooked tail-on shrimp, then take the tails off and chop them into 1-inch pieces
- in a skillet, warm up the butter over medium heat
- to butter, add garlic scapes, salt, pepper, and sage and let the scapes soften up for about 5minutes
- add the shrimp/protein to the skillet and saute with the scapes till it's done
- whenever the pasta is done, drain it
- when protein's ready, add the pasta and tatsoi and stir to coat and mix well
- let it all blend together in the skillet for about 3 minutes, stirring often
- sprinkle cheese over the mixture, stir together and serve
See you at the next pickup!