Submitted by

Anonymous (not verified)

on Fri, 2010-07-02 13:07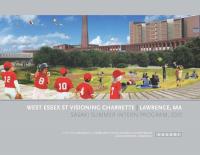 Announcing a presentation at City Council Tuesday July 6 of ideas for the West End of Essex Street. Groundwork Lawrence was approached by Sasaki Associates, an interdisciplinary planning and design firm that finds solutions based on rigorous analysis, economic realism, environmental responsibility, and cultural awareness, to "donate" their summer interns for a 2-week charrette and visioning exercise in Lawrence.
The interns of Sasaki Associates worked with the City of Lawrence and Groundwork Lawrence on this 2-week charrette with a goal is to produce a preliminary land use master plan that offers a new vision for the West End of Essex Street, which can serve as a framework for potential funding opportunities from Massachusetts.
Their Master Plan for the West Essex Street Area focuses on engaging community, enhancing natural
systems, and galvanizing an economic renaissance in the area adjacent to downtown Lawrence.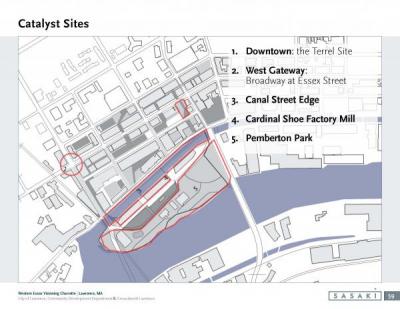 We hope to see you at the final presentation! Tuesday July 6th at 7 p.m. in City Council Chambers.
About the intern program at Sasaki:
The interns will be worked with direction from Sasaki staff representing all of their disciplines. In previous years, Sasaki has had between 9-14 interns working for them and supervised by staff in landscape architecture, architecture, urban planning/design, civil engineering, and environmental graphics.
During the 2-week period Sasaki Associates works with the host city (in the last 2 years it was Quincy and Newton) to study urban issues related to planning, architecture, landscape design, open space, engineering, and infrastructure. The interns work with direction from Sasaki professional staff while engaging residents and leaders in a study of a small, discrete portion of a community.
Please contact Kathryn with any questions.