¡Para ver esta página en español oprima aquí!hreff=>
Thank you for your interest in our CSA program! The 2010 season is over but we are currently accepting applications for the 2011 season on Farmer Dave's Websitehreff=>. The Groundwork Lawrence CSA makes it easy to enjoy locally grown, farm-fresh produce every week – hand-picked, packed and delivered to a central location for your convenience. Please email Annahreff=> or call her at (978) 974-0770 with any questions. We also encourage you to donate to our Groundwork Share-a-Share Program to help increase the affordability of our subsidized shares! Please come back and visit the site soon for updated information.
Jump to...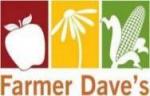 The CSA is brought to you by Groundwork Lawrence and Farmer Dave's. Click here to go to Farmer Dave's website and view all offered CSA locations.
Why participate in a CSA?
Some of the benefits our past CSA members have described include:
Eating locally—creating a direct connection to the source of your food and the farmer and increasing your knowledge about what can be grown here and when
Access to high quality, fresh, locally-grown produce that tastes better!
Better nutrition and health
The chance to discover new vegetables, to share recipes, and to expand your knowledge of storing and preserving produce
Decrease environmental impacts associated with growing and shipping produce
Getting to meet new people and visit with old friends at the pickup site
Save money!
"With the CSA, we eat better and healthier. Each year we end up cooking a wider variety of recipes, having more family meals, and eating more vegetables in general during the CSA season. Also, now that we have more friends in the CSA, we love comparing notes!"
What kind of food will I get?
The weekly share varies slightly depending on what is in season. Members receive high quality, fresh, locally grown produce picked within 24 hours of pick-up. Check out our FAQs and Sample Shares page for more detailed information. If you have questions regarding what you will get in your share, email Annahreff=> or call her at (978) 974-0770.
"My kids really enjoyed seeing the vegetables each week and really began to understand that food comes from the earth and not from the shelves of a supermarket."
Are there any changes for the 2010 CSA season?
Yes, in response to the feedback received from CSA members, there are several exciting changes for the 2010 CSA season! Farmer Dave will be growing more of the vegetables that were rated high on the survey and fewer of the less popular vegetables, "choice style" delivery will be introduced, the CSA will begin in mid-June and last 20 weeks until the end of October, and new share sizes and winter shares (November and December) will be available for the first time. Please see the main CSA Program page for more information.
Return to top of page
"My whole family is eating healthier and tastier food, and my 3-year-old daughter is growing up with an appreciation for how and where her food is grown. We've also enjoyed being part of a community of locavores--it's helped us connect with people in our neighborhood and in our city."
Rates & Dates
Registration forms are now available on the website, as well as further information including Frequently Asked Questions and the Product Availability List. The CSA will run for 20 weeks, from June 15th to October 26th, with pickups on Tuesdays from 3-7pm at the Bell Tower Square building, conveniently located just 5 minutes off Rt. 495 at 60 Island Street in Lawrence.
CSA 2010 Deadlines and Start Dates
Friday, January 15: Open registration!
Tuesday, June 1: Last day to sign up for the CSA and last payments due for those paying in installments.
Tuesday, June 15: First day of CSA pick-up! (tentative)
Tuesday, October 26: Last day of CSA pick-up for the regular season.
Tuesday, November 2: First day of winter share CSA pick-up.
Tuesday, December 14: Last day of winter share CSA pick-up.
This Year's CSA Prices
"Small" Vegetable Share: $300
"Regular" Vegetable Share: $450
"Super Family" Vegetable Share: $800
Fruit Share: $200
Winter Share (November & December): $200
Share-a-Share
As part of our mission, we strive to make high-quality fresh produce accessible to as many members of our community as we can. In 2008, Groundwork Lawrence established a fund to subsidize the cost of CSA shares to individuals and families experiencing financial hardship. Through our Share-a-Share Program, you can help us extend the benefits of the CSA to those who would otherwise not be able to afford it.
If you are interested in receiving a subsidized share, please contact Annahreff=>. We strive to subsidize at least 50% of the cost of your share if you are experiencing a financial hardship, so that cost is not a barrier to you and your family's good health. Please note also that SNAP/EBT/Food Stamps are also acceptable forms of payment for a CSA share, and we will happily work with you to set up a payment plan.
For those who are not in need of a subsidized CSA share, will you consider making a donation so that others can share in the harvest? Here are some examples of how far your donation can go:
$180 will provide a "super family" vegetable share for a month.
$110 will provide a "regular" vegetable share for a month.
$80 will provide a "small" vegetable share for a month.
$67 will provide a fruit share for a month.
Any amount you donate will help Groundwork Lawrence provide shares to families and individuals in need. We thank you for any contribution you are able to make! Groundwork Lawrence is a 501(c)3 organization and your donation is tax deductible to the fullest extent allowed by law.
Return to top of page
Work-Trade Opportunities
Farmer Dave is looking for a couple individuals who would be willing to assist with all aspects of CSA distribution in exchange for a free "regular" vegetable share. For more information, click please read the Work-Trade Opportunity Information Sheet, and if interested, fill out the application and return it to Farmer Dave (address and email listed on the form).
For any additional questions, email Annahreff=> or call her at (978) 974-0770.