Submitted by

Anonymous (not verified)

on Wed, 2012-09-26 15:28
For more than two decades the City of Lawrence has been working alongside a number of other partners to rehabilitate the former Oxford Paper Mill. Paper production began at the mill in 1846 and was the first of its kind in Lawrence. The site once employed as many as 500 people and produced the glossy paper National Geographic Magazine was printed on. In 1975 the abandoned mill suffered two major fires, local residents began to call it "the Dresden of Lawrence" because of its likeness to the German city after World War II.
After years of effort and extensive environmental cleanup, the mill was ultimately taken down in 2000, a significant step forward in revitalizing the Lawrence Gateway. Corporations such as GenCorp, which formerly had a manufacturing presence in Lawrence, have proved to be an invaluable resource to Groundwork and the City of Lawrence by partnering in environmental remediation projects and rehabilitating a large parking lot adjacent to the Oxford Mill Site. Over the course of the next year the reclaimed 3 acre site will be transformed into a beautiful open park for the people who live and work in the City of Lawrence.
Join us Wednesday, October 3rd from 7:00 – 8:00 PM at Lawrence Heritage State Park for a conversation about the site's history, cleanup and construction strategies, and a more detailed look into the new park!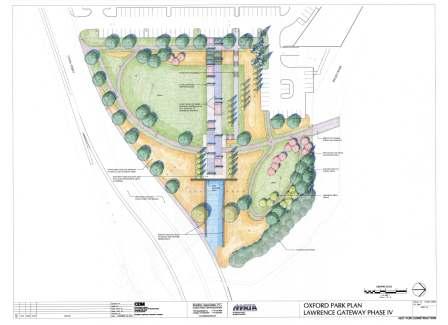 Oxford Paper Mill Park Site Plan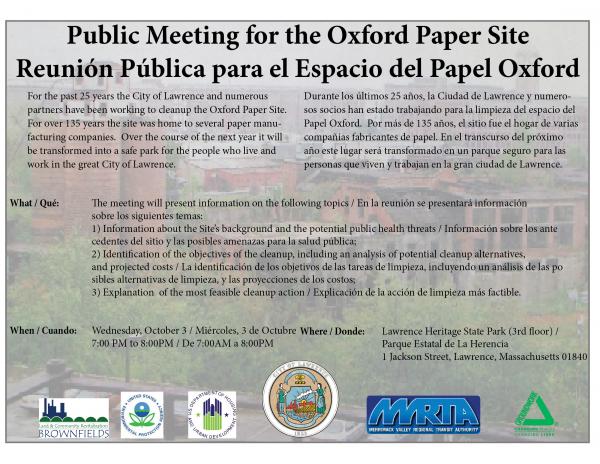 Meeting Flyer - English / Español