Submitted by

Anonymous (not verified)

on Thu, 2013-01-24 15:31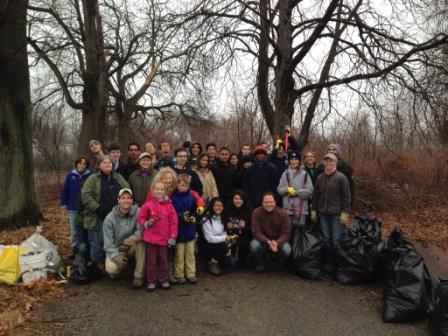 In spite of the cold, wet, and snowy weather typical of New England in winter, community members from in and around Lawrence have come together twice in the last few weeks to clean and maintain several of Lawrence's parks and greenspaces. I want to personally extend a BIG thank you to everyone who came and helped out the last two weekends.
On a dreary Saturday morning two weeks ago Groundwork Lawrence and The Essex County Greenbelt partnered up to cut invasive Asian Bittersweet and pick up the trash at an undeveloped area near the confluence of the Merrimack and Spicket Rivers known as the Ferrous Site . More than thirty volunteers from six different towns spent three hours removing a dozen large bags of trash, recyclables, and a tire, and cutting through well established bittersweet vines, some of which were more than four inches in diameter!
Last weekend thousands of people nationwide, including President Obama, volunteered their time in honor of The National Day of Service . A group of 15 adults and youth teamed up with Groundwork to clean graffiti from some of the city's parks and playgrounds. With a little bit of elbow grease we were able to remove almost all of the graffiti!
It is truly encouraging to see so many people willing to brave the winter weather and volunteer their time to serve the community. Thank you, and keep up the good work!