Submitted by

Anonymous (not verified)

on Fri, 2013-08-09 14:52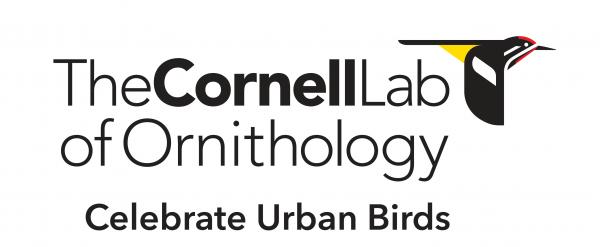 A few short time ago I wrote a blog post about the exciting developments in our Celebrate Urban Birds program. Well, these last few weeks have been full of some great Urban Birds related educational programs, birding walks, habitat improvement projects, and more! With support from the Cornell Lab of Ornithology's Celebrate Urban Birds program, the New England Wildflower Society, Elevated Thought, and more, we have been able to make Manchester Street Park a more beautiful place and transform open space into higher quality habitat for urban wildlife, all while increasing opportunities for hands on environmental education in Lawrence. Here is a quick rundown, with pictures, of what we did!
- An area approximately 700 feet long and 15 feet wide was cleared of aggressive invasive trees, shrubs and vines.
- Volunteers from Pfizer Pharmaceutical helped to clear more invasive species, and planted 200+ pollinator friendly wildflowers, shrubs, and small trees. The volunteers worked faster than we could keep up with, and got far more done than we could have anticipated!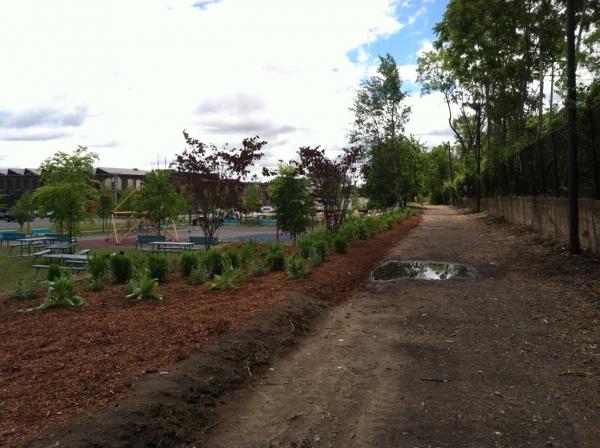 - Volunteers from New Balance, the Groundwork Lawrence Green Team, and the Spicket River Crew planted approximately 1,600 wildflower plugs specially grown for us by the New England Wildflower Society! The truck was PACKED with plants for the drive home from Nasimi Farm, and our volunteers worked hard all day to get the plants in the ground. They have acclimated well and are doing great in their new home, some have even started to flower!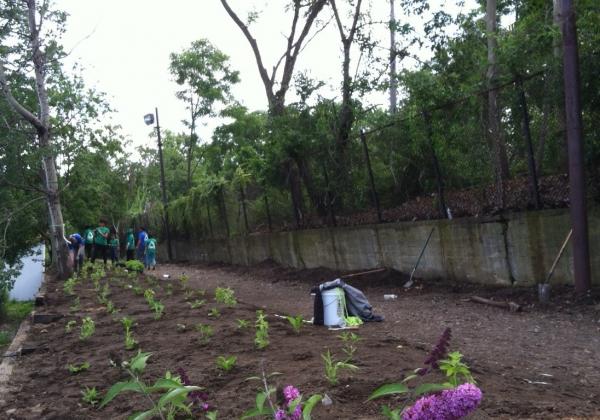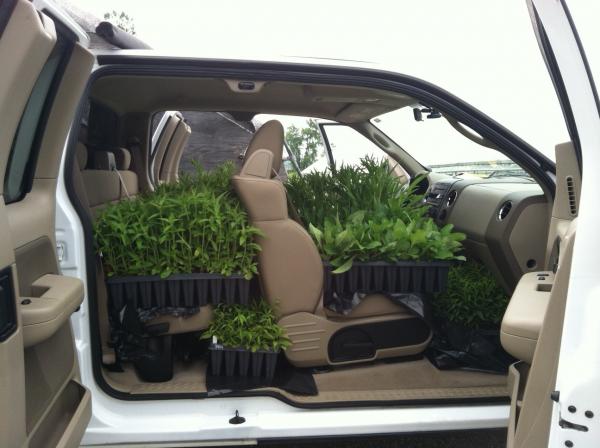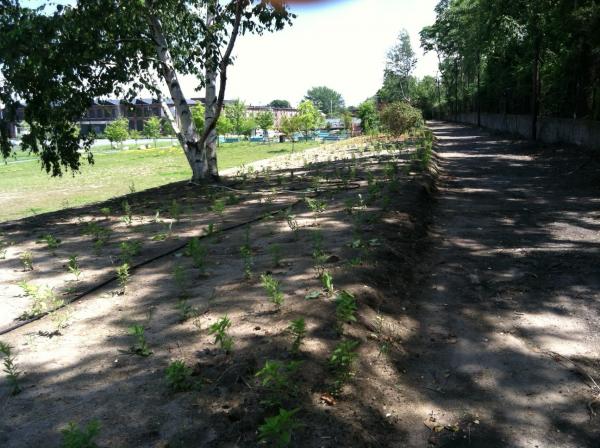 - Lawrence Youth Build, an organization dedicated to revitalizing low income communities through their youth, constructed a beautiful new shed in our community garden at Manchester Street Park. The roof of the shed was specially designed to be a "green roof" and will be planted with a variety of colorful plants in the near future. The shed then got spiced up with an incredible urban nature themed mural. Alex Brien, an artist from the non-profit organization Elevated Thought, designed and painted a beautiful mural for the shed. While he was working on the shed kids from Lawrence's Boys and Girls Club got the chance to visit Alex and learn about mural composition and design.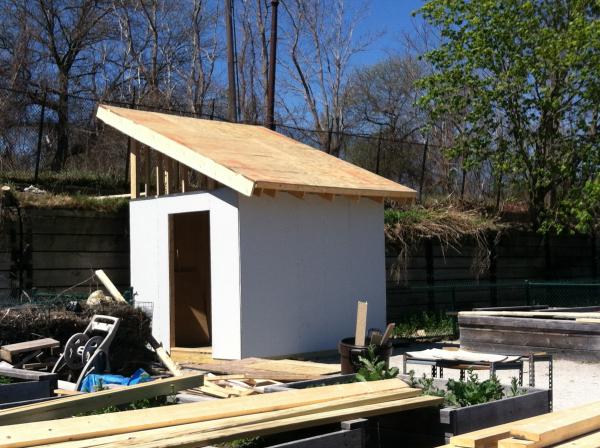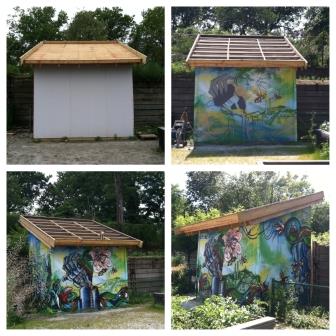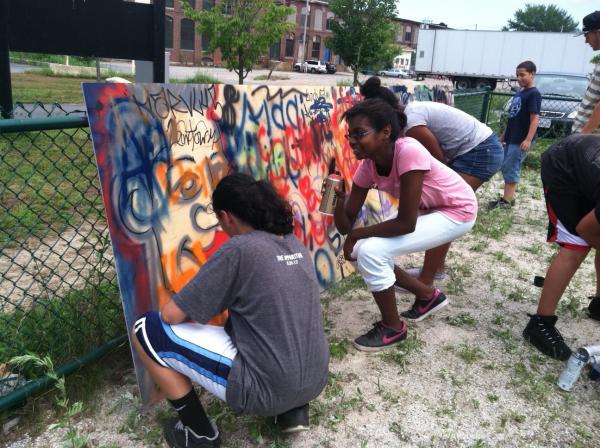 - Finally, the most diverse, and what I think was the most fun aspect of our Celebrate Urban Birds project were the educational components. We held a number of different events throughout Lawrence from urban birding hikes among the abandoned mill buildings and presentations at the public library, to a number of events with kids in classrooms, clubs, and camps. In July the 11-13 year olds at our YMCA Urban Adventures summer camp spent an entire week celebrating the urban birds of Lawrence. They learned how to use binoculars, how to identify birds, and even collected real scientific data on populations of urban birds at Manchester Street Park which has been sent to Cornell's lab of ornithology to be used for bird conservation.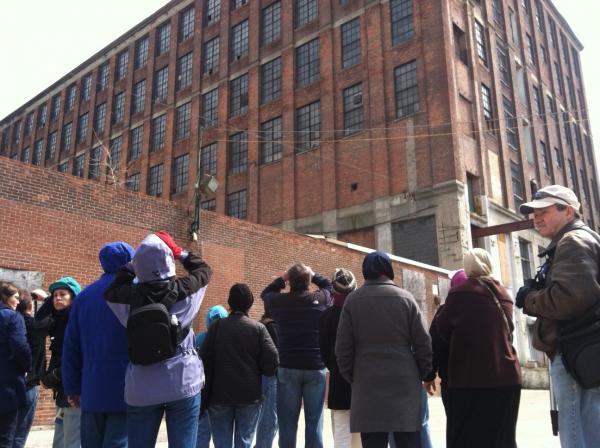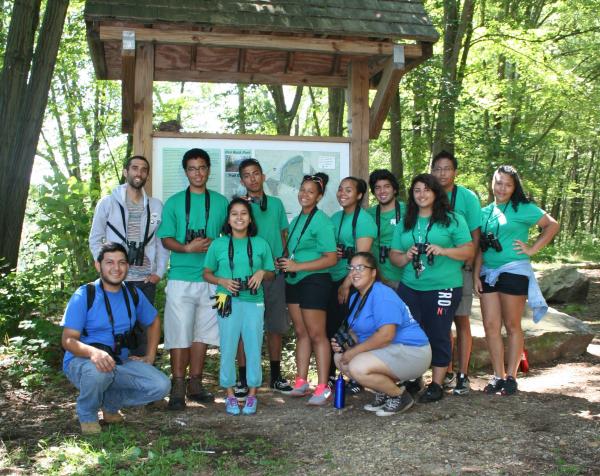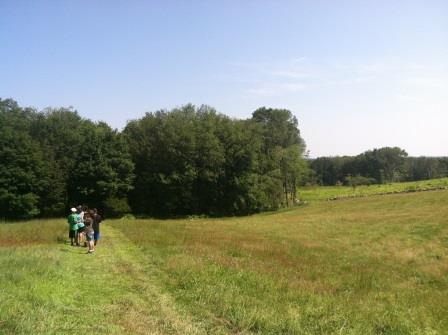 We are so thankful to EVERYONE that helped out and made all of these events possible, especially the Cornell Lab of Ornithology. It is impossible list every single person by name here, but you know who you are if you were involved. I hope that you can take the time to visit Manchester Street Park to see the inspirational mural and to watch our wildflower meadow grow. In time, the meadow will be a lush native garden, whose flowers and plants will provide food, and habitat for a wide array of birds, mammals, butterflies, bees, and more. But don't take my word for it, go see for yourself! size="3">