Submitted by Stacey on Mon, 2013-10-07 12:46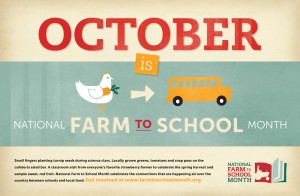 It's time to celebrate the connections happening all over the city engaging students with local food! In 2010, Congress approved a resolution to officially designate October as National Farm to School month. Farm to school is broadly defined by the National Farm to School Network as "any program that connects schools (K-12) and local farms with the objectives of serving healthy meals in school cafeterias, improving student nutrition, providing agriculture, health and nutrition education opportunities, and supporting local and regional farmers." This includes schoolyard gardens which are often located right in the school's backyard!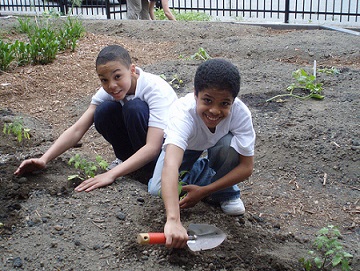 Here at Groundwork Lawrence we operate nine schoolyard gardens and provide urban ecology education and health education to eight middle and elementary schools. Students are able to get dirty in the garden learning to grow foods they eat and the importance of where food comes from. This educational experience can also be tied to other academic lessons such as math and science and is important in developing other life skills such as patience, responsibility and the ability to work as a team.
We are also dedicated to connecting Lawrence residents to local farmers through our farmers markets, community gardens and a community supported agriculture program through our partner, Farmer Dave's. Be sure to stop by the farmers markets before they close for the 2013 season at the end of the month!
• Wednesdays, 10am - 5:30pm @ Campagnone North Common (near the corner of Jackson & Haverhill Streets). Last market of the season October 30th
• Saturdays, 9am-3pm @ Route 28, corner of Broadway and Park Street. Last market of the season October 26th
For more resources and to learn about how you can celebrate National Farm to School month check out:
• Farm to School Month
• Massachusetts Farm to School
• National Farm to School Network