Submitted by

Anonymous (not verified)

on Tue, 2009-02-03 13:01
Monday we participated for the first time in Esperanza Academy's Annual Shadow Day. The goal of the day is to expose the young women at the school to the varied careers of women in the area. There are presentations in the morning and then after lunch 7th grade girls visit workplaces. Karen and I made two presentations and then two students came to the office. Our presentation was a description non-profits and how they work and then more specifically what Groundwork Lawrence does in the community; then we engaged in a mock design charrette of Cronin Park. The fun part for me was the brainstorming of park elements by the girls, but also the different interests in the two classes-our first group was 6th grade and the second was 7th. Brainstormed ideas included the standard responses we have heard in similar instances: swimming pool, playground and swings, snack shack, water park, ball fields, basketball courts, skate park, and a rock climbing wall. I was also quite pleased to hear walking loop around the park and community garden vegetable beds from the 7th graders. Next we gave them their budget and discussed the space limitations at the site. Karen and I had created some at scale park elements out of colored foam and I had drawn a map of the park site so the girls were able to see how certain elements fit. The swimming pool was nixed straight away because of the budget, but the baseball field held on for a little bit: it fit, but really didn't leave much room for anything else. At the end of each class we had created a park complete with a playground, swings, open lawn, picnic tables and benches to rest as well as walking or biking loop around the park. Both classes mentioned Scarito Park and how they know folks that exercise on that trail loop around it so they wanted more of that.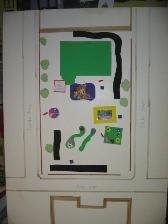 The park plan that the 7th grade class created.
One thing surprised me was that neither group wanted more trees. They thought that they would cost too much, get too big and shade too much. I believe my favorite part of the exercise was with the 7th graders- we were going to add up the cost of the elements that they had selected as a top priority and one young lady raised her hand and excitedly asked to do the math. Of course I obliged and she came up to the board. A couple of her classmates helped her and then another group of the students came up to the park site plan and arranged the elements on it. They seemed to take the exercise to heart and, I think, enjoyed it.
After lunch, two young ladies came to the office where Rowan gave them a tour then she and Karen took them on a price-finding expedition for our community garden wish-list. Janel worked with them after they returned to make safer and more environmentally friendly cleaning products and a body scrub. Janel will be doing the same workshop presentation at LCW at one of their IDA classes. Once the workshop trial runs were done, they had some more time to help us with a mailing to our Community Gardeners and then they made a couple more park layouts! I came in this morning to a completely tricked out Cronin complete with a swimming pool, pavilion, basketball court and water play fountain.
We greatly enjoyed hosting the young ladies and sharing our work day with them. I hope they felt the same!