Submitted by

Anonymous (not verified)

on Fri, 2009-02-06 15:04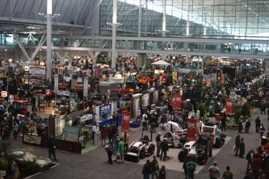 The trade show floor.
Rose and I attended New England Grows this week at the Boston Convention and Exposition Center. New England Grows is an association of varied landscape professionals. The trade show floor was immense-full of heavy equipment, nurseries, landscapers and other services for landscapers. We attended several classes including "Tough Urban Plants," "New Techniques for Soil Modification and Tree Preservation, Climate Change and Peak Oil, Sustainable Design Using Grasses, Sedges and Rushes, Using Indigenous Plants in the Landscape, Sensible vs Senseless Pruning and Green Roof Construction 101. I felt like there are several topics and fun ideas that I can bring back to the office and to Lawrence-tree pruning along the Canal anyone?