Submitted by Brian on Fri, 2014-12-12 10:57
Posted: Saturday, July 12, 2014 11:42 pm. By Lauren DiTullio lditullio@eagletribune.com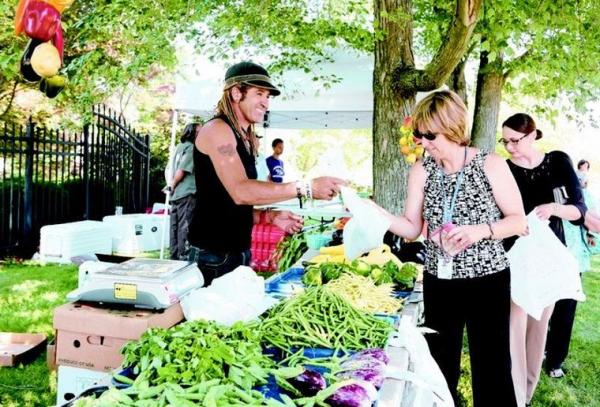 AMY SWEENEY/Staff photo - The Eagle-Tribune
METHUEN — Karen Kennedy, director of Mission and Community Partnerships for Holy Family Hospital, can't say for sure that the hospital's new farmers market is Methuen's first.
Regardless, she's doing everything in her power to make sure it's the best.
"There's just nothing as good as fresh, locally grown fruits, vegetables and herbs," she said, admitting that she herself had just enjoyed a handful of fresh strawberries.
The Steward Health Care System, which operates 11 hospitals in the state, has been pushing to add farmer's markets to as many campuses as possible in the last several years. Last year, Merrimack Valley Hospital in Haverhill opened one. Last Friday, an even larger farmer's market at Holy Family enjoyed a successful soft opening, according to Kennedy.
"We want to help create a mindset of balanced nutrition, and promote relying on local produce when it's available," she said. "It's hard to do the right thing with people's busy lives and schedules ... and we want to help do our part to create a healthier experience and a better family experience in our community."
The market's grand opening is this coming Friday, and Kennedy expects an even larger crowd. Still, many hospital staff members and passersby made a dent in the supply of produce last Friday. Kennedy said making produce available near hospitals is about preventative medicine, especially when the nearby urban population is at high risk for obesity, diabetes and heart problems.
Groundwork Lawrence is responsible for managing the market, which will be open from 11 a.m. to 5 p.m. on Fridays until October. Rosa Pina, Groundwork's outreach and events manager, said farmers markets are particularly important for the people of Lawrence. She said the organization has been trying to coordinate a farmers market close to the Lawrence/Methuen line for several years, and she is glad to see it come to fruition.
"We are in a food desert. There is only one supermarket in the entire city. I think having access to fresh fruits and vegetables is extremely important to our community," she said.