Submitted by Brian on Fri, 2014-12-12 11:05
Posted: Tuesday, July 22, 2014 7:11 pm | Updated: 1:34 pm, Wed Aug 27, 2014.
By Lauren DiTullio lditullio@eagletribune.com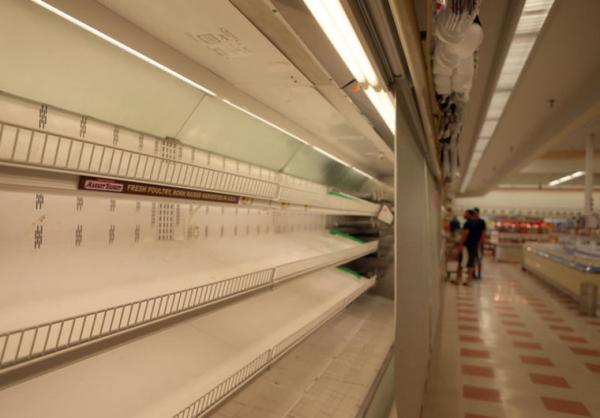 MARY SCHWALM/Staff photo An empty case normallu stocked full of chicken is empty at Market Basket on Essex Street in Lawrence.
LAWRENCE — A sign in the window of the Essex Street Market Basket reads, "Save Market Basket" and "#5 Stands With You." Outside people were busy adding their signatures to a petition to reinstate ousted CEO Arthur T. Demoulas. Inside, the shelves were devoid of fresh fruit, save for some peaches and pears.
For many in Lawrence, that means putting fresh food on the table is a problem until the drama ends.
Rangel Rodriguez is an employee at the Essex Street Market Basket, lives in Lawrence, and normally does his grocery shopping where he works. He said he feels for the families that are forced to travel elsewhere to get their groceries.
"It's going to really hurt ... if we go into the first week of (August) like this," said Rodriguez, who said he has met Demoulas on many occasions and feels the former CEO gives everybody a chance. "Any longer than a couple of weeks and you'll start to see it all over."
Many of the bodegas in Lawrence buy from Market Basket in the first place, Rodriguez said. Owners of small markets make up a significant part of the customer base for the Essex Street location, as well as families who walk from surrounding housing projects, he added.
"If we get affected, they get affected, too. They're going to go somewhere else," Rodriguez said.
At the Market Basket near The Loop in Methuen, receipts from the nearby Stop & Shop and other competitors have been taped up in the windows. Rodriguez said he and other employees in Lawrence have had to field complaints from angry shoppers for days.
"You have to deal with people who get mad and say it's your fault. It's not our fault. It's not good for customer service at all," he said.
People who don't own a car may not have the ability to take their business elsewhere.
"Anything that's limiting the availability of fresh produce is a huge impact," Groundwork Lawrence Executive Director Heather McMann said. "There are over 100 bodegas in the city, but they don't necessarily have the infrastructure for fresh or frozen produce. Some do, others don't."
Because many people travel on foot or rely on public transportation to do their grocery shopping, getting to another full-service grocery store is not a viable option for them, McMann said. The Market Basket on Essex Street is the only one within the city limits of Lawrence. The city's population is just over 76,000, according to the 2010 census.
"It's just going to be a higher cost of both time and money if folks who are normally going to the Market Basket in town need to get out to The Loop or the (Market Basket) on 114," she said. "It's multiple bus routes. It's a cab fare."
McMann said Lawrence has been described in media reports and classified in the past as a food desert, but she finds the term "food swamp" to be more apt.
"A food desert makes it sound like there's no food. There's lots of food. There's a lot of bodegas -- good and bad. There are a lot of great restaurants. On every corner, there's food, but none of it is healthy," she said.
It's an issue that officials in Lawrence have been combating since long before the Demoulas feud led to a Market Basket boycott. Vilma Lora, the coordinator of the Mayor's Health Task Force in Lawrence, has been behind a push to equip bodegas and corner stores with the resources to carry healthy eating options. The SALSA campaign, which stands for Supporting Active Lifestyles for All, is in its pilot stages. The goal is to educate business owners and the public about the larger implications of their day-to-day choices.
"The perception that fresh or organic food is so expensive, there's some truth to that, but ... it's also about prioritizing and budgeting and deciding what we are going to be feeding our families," she said.
Lora said she hopes the problems at Market Basket will underscore the importance of the program for business owners in the area. In the meantime, she acknowledged that fresh food vendors in the city are scarce.
"It's very difficult. There's not a lot of options. The other options are stores that are outside city limits. That's a choice for those who can drive. But for those who cannot, there is the Fruteria that sells a lot of fresh produce. That's a great place," she said.
Randy Mejia, a store manager at his parents' family-owned market, said he has seen a lot of new faces at The Fruteria in the last couple of days. The Manchester Street store has been depleted of fruits and vegetables more quickly than usual. Mejia said he plans to bring back a bigger order when he goes to Boston to resupply. Mejia said he gets his produce wholesale, a practice that many corner stores don't have the space or money to adopt, which contributes to the lack of grocery shopping options.
"(The Market Basket boycott) is giving us more business. People are talking to the cashiers about it. We just hope people will come in and take a look at our store," he said.
Oscar Vasquez, an assistant store manager at the Essex Street Market Basket, said produce, many popular cereals, evaporated milk and other staples will not be found in the store until the warehouse begins delivering again. He said eggs and dairy will remain in stock, as they are supplied by an outside vendor.
"There's no other supermarket that could give them the quality and the value. It is hurting the community," Vasquez said.