Submitted by Brian on Fri, 2014-12-12 11:16
Posted: Friday, September 12, 2014 1:25 am
By Terry Date tdate@eagletribune.com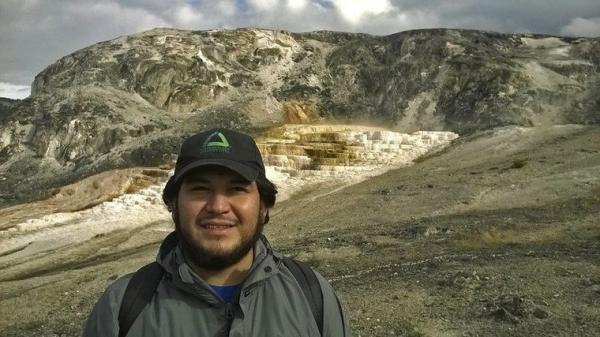 COURTESY PHOTO Jerver Abrego poses at the volcanic hot springs in Yellowstone. The 24-year-old program coordinator for Groundwork Lawrence cleared trails and painted picnic tables at the national park. He will use what he learned on the trip to lead a cleanup of the Spicket River Saturday.
LAWRENCE — Jerver Abrego has learned to think like the land in the Merrimack Valley, appreciate its hidden splendor and harvest its possibilities for restoring lives.
The 24-year-old program coordinator for Groundwork Lawrence carried this enthusiasm to Lawrence from Yellowstone National Park, where, for eight days in August, he and five other local young people cleared trails, painted picnic tables and toured natural wonders.
On Saturday, they will bring their experience in the wide-open spaces of the West to the industrial East, when they help lead the Spicket River Cleanup.
Cleanup organizers say they hope to draw 800 volunteers to sites along a 3-mile stretch of the river, said Heather McMann, executive director of the nonprofit Groundwork Lawrence.
One of the places the volunteers will clean is the rail trail area by the Manchester Street Park.
Days after Jerver Abrego returned from Yellowstone, he visited the Lawrence park.
He had never explored it before, but this time he saw its potential — for families relaxing, for bird watchers spying a colorful kestrel or circling kingfisher and for canoeists to dip a paddle.
Back at Yellowstone — home to grizzlies, elk, mountains and geysers — it was humbling to stand in America's first national park, a place people felt compelled to preserve in its natural state, Abrego said.
The awe he felt standing in the national park, which covers almost 3,500 square miles, inspired him to envision what Lawrence's remaining open spaces might become. He imagined what the valley looked like before industrialization spawned a mill-dominated cityscape in the 19th century, and thought about its restored splendor in smaller spaces.
Lawrence High student and Green Team member Jairo Hernandez brought a greater work ethic from his Yellowstone adventure. Setting timbers along trails was exhausting labor, he said.
Hernandez said he brings that Yellowstone ethic to his Green Team work maintaining local spaces and will do so on Saturday.
There will be plenty of ethic to expend; lots of bottles, bags and castaway car parts to clean. Last year, crews gathered about 9 tons of trash, Hernandez said.
Each of the last 12 Spicket River Cleanups took a big chunk out of the accumulated trash.
Groundwork Lawrence's executive director has witnessed the enthusiasm of the six young people who traveled to Yellowstone in August.
They are eager to make their city a better place and are more open to the potential to make improvements.
"One of the benefits of leaving your own environment and seeing another environment is to see your own in a different light when you return," she said.
The Groundwork organization restores open space and puts people to work.
The national Groundwork organization and the National Park Service funded the trip to Yellowstone for six young people in August, two Groundwork Lawrence program coordinators and four Groundwork Green Team members.
This year's cleanup runs from 8 a.m. to 1 p.m., starting at 75 Manchester St., at the Manchester Street Park.
Registration is from 8 a.m. to 8:45 a.m., speakers will address the gathering from 8:45 a.m. to 9 a.m., the cleanup will take place from 9 a.m. to 12 noon, and lunch will be served from noon to 1 p.m.
For more information about the Spicket River Cleanup visit groundworklawrence.org/spicketrivercleanup
For more information about Groundwork Lawrence visit groundworklawrence.org/
If you go
What: Spicket River Cleanup
When: Saturday from 8 a.m. to 1 p.m.
Where: 75 Manchester St., Lawrence (Manchester Street Park)