Submitted by Brian on Fri, 2014-12-12 11:21
Posted: Sunday, September 14, 2014 12:09 am
By Lauren DiTullio lditullio@eagletribune.com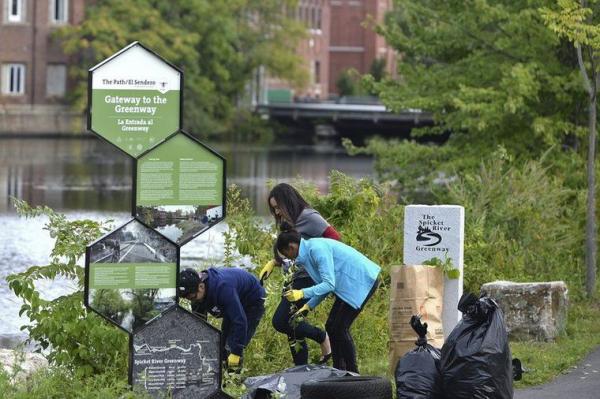 RYAN HUTTON/ Staff photo -- Jaedee Rodriguez, 15, in rear, Melheny Munoz, 15, in blue, and Christian Rios, 15, at left, all of Lawrence, clean brush from the The Spicket River Greenway during the 13th Annual Spicket River Cleanup hosted by Groundwork Lawrence
LAWRENCE — It's not every Saturday that Ana Colon is up before 8 a.m. and out in the sunshine, armed with a water bottle, some snacks and a pair of gardening gloves.
But Colon's children, Alberto and Keyanna Figueroa, motivated their mom to chaperone a group of about 200 Arlington Elementary School students that participated in Saturday morning's 13th Annual Spicket River Cleanup, organized by Groundwork Lawrence. Groundwork staff members and volunteers acted as site leaders at more than a dozen sites along the river in Lawrence and Methuen, guiding participants of all ages as they planted bulbs and picked trash off the banks and out of the river.
"It makes me feel good. I came here to support them," Colon said.
Groundwork Lawrence executive director Heather McMann said this year's cleanup is one of the largest, if not the largest, they've ever had. She expected the turnout to be about 800 volunteers, many from Lawrence's public schools. As part of the turnaround plan implemented at the beginning of last school year at five of Lawrence's schools, including Arlington, students must meet a community service goal. McMann said Groundwork Lawrence strives to provide opportunities for students to make an impact, and the River Cleanup is an easy way to get a lot of people out in the community at once.
"This park always seems so big to me and looking at how much space there is, how many people are here, and how much space there still is, shows me that there is still room to grow," McMann said before the event's kickoff at Manchester Street park.
McMann said the completion of the Spicket River Greenway, a three-and-a-half mile stretch of paths and parks along the river, has made a difference in the annual cleanup effort. Now, there are dedicated spaces for people to spend time near the water, and trails for people to walk and ride their bikes, prompting people to keep the riverbanks cleaner than in years past. The cleanup effort has expanded into the neighborhoods surrounding those parks in addition to the river itself, she said.
"Cleaning up all the connections is a part of it now that the river itself is cleaner," she said.
Mayor Daniel Rivera noted the change in his remarks at the event's kickoff, saying when he was a kid, people were afraid to get close to the visibly filthy water.
"You know how you say, 'You have cooties?' We would say, 'You fell in the Spicket!" he said.
U.S. Rep. Niki Tsongas came to the cleanup as part of her annual River Day, which also included visits to rivers in Stow and Fitchburg.
"All these rivers in our district, they are what bring us together, even though our communities are very different," she said.
State Rep. Frank Moran and Democratic state senate candidate Barbara L'Italien were also in attendance at the cleanup.
Around 9 a.m., volunteers were reaching the end of their stores of supplies to hand out to participants. Tewksbury-based company Thermo Fisher Scientific was the event's main sponsor, and they donated green water bottles for every volunteer. Groundwork Lawrence associate development director Tracy Sopchack said it was good to be running low on supplies. She began the day with 800 pairs of gardening gloves, and shortly before volunteers got on buses to head to their cleaning sites, she was left with just a few complete pairs and a big pile of all left hand gloves.
"I think part of (the even't appeal) is that it's social. I know that I love coming because I ... get to see people I haven't seen in a long time. It's also very visible. When you start, there's trash all around, and when you're done, there isn't anymore ... and it's tangible," she said.
Lawrence High School freshman Nicole Torres said she got involved with the cleanup for the first time this year because she feels that it's important to represent Lawrence as a clean city. Since she was a child, she said, she has noticed members of the community have become increasingly interested in maintaining and beautifying the city and making sure that kids understand the value of giving back.
"I think everyone wants to see a difference in Lawrence. We want to get it cleaner, and be proud. We want to show pride that we live here and show that Lawrence is like any other place," she said.