Submitted by Brian on Fri, 2014-12-12 11:25
Posted: Thursday, October 9, 2014 12:30 am
By Lauren DiTullio lditullio@eagletribune.com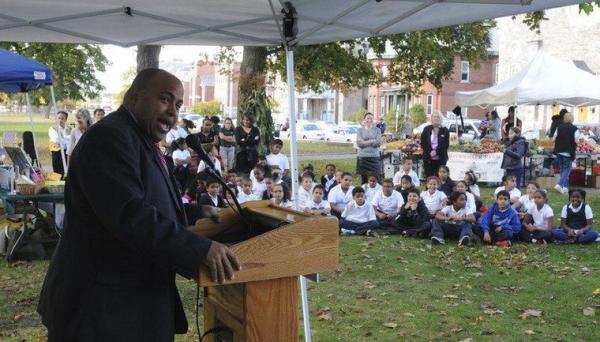 PAUL BILODEAU/Staff photo. Lawrence Mayor Daniel Rivera talks as state and local officials tour Lawrence's farmers market on Campagnone Common Yesterday.
LAWRENCE — Hands shot into the air when Mayor Daniel Rivera asked about 50 Leahy School fourth graders if they had recently eaten a carrot. But when asked if they knew what the word "agriculture" means, most students responded with a collective "no."
With a hands-on lesson at the farmer's market on Wednesday afternoon, teachers, city leaders and state officials hoped to change that. From their seats in the grass on Campagnone Common, the students heard from Rivera, state Commissioner of Agriculture Gregory Watson and representatives from the state Department of Transitional Assistance and Groundwork Lawrence. They played games that helped them identify fruits and vegetables and the benefits of eating them, and were sent home with free bags and copies of kid-friendly recipes.
"We are finding a renewed interest in urban farming," Watson told The Eagle-Tribune. "The average age of farmers in Massachusetts is 55. That's a sign that we've got to find out where the next generation of farmers will come from. I think many of them will come from cities," he said.
Watson visited Lawrence as part of a statewide tour of farmers markets that began in September and will conclude in Dorchester in January. The goal of the tour is to raise public awareness that clients enrolled in SNAP and similar benefit programs can use food stamps to pay for local produce at the farmers market. Watson said the number of vouchers redeemed at the Lawrence market is higher than the redemption rate in other communities.
"Part of the purpose of doing this is to celebrate and acknowledge the work the community is doing," Watson said. "Our goal is to make sure fresh, nutritious, locally grown food is accessible and affordable to everyone."
Groundwork Lawrence coordinates the market on Campagnone Common on Wednesdays, as well as a Friday market at Holy Family Hospital in Methuen and a Saturday Market at Greater Lawrence Family Health Center. Executive Director Heather McMann said Groundwork chose to have Leahy classes attend the event because getting kids connected to the source of their food at an early age will help them form sustainable habits. She also said that children getting excited about the market could inspire parents to come by for groceries.
"There's this fear that the farmers market isn't affordable. The biggest thing for us is to get the world out that it is," McMann said.
The vendors are local farmers that price competitively with local grocery stores, McMann said. Additionally, Groundwork matches the first $10 a SNAP client spends at the market.
Fourth grade teacher Carolyn Driscoll said the mini field trip to the Common fits in with Lawrence Public Schools' overall goal of revamping the meaning of physical education. While her students still learn the food pyramid at their desks, the chance to get out in the sun and touch and taste fresh food creates a lasting impression, she said.
"There's a high obesity rate in the schools, which is why we're trying to implement more healthful activities like this," Driscoll said.
Driscoll, who has been a teacher in Lawrence for more than 20 years, said she knows some of her students already travel to the farmers market with their families. She hopes the rest will bring what they learned home, she said.
"We will certainly instill it in them to go home and tell their parents," Drscoll said. "Every time they are able to have a hands-on learning experience, it's a positive thing for them."