Submitted by Brian on Wed, 2015-03-04 16:26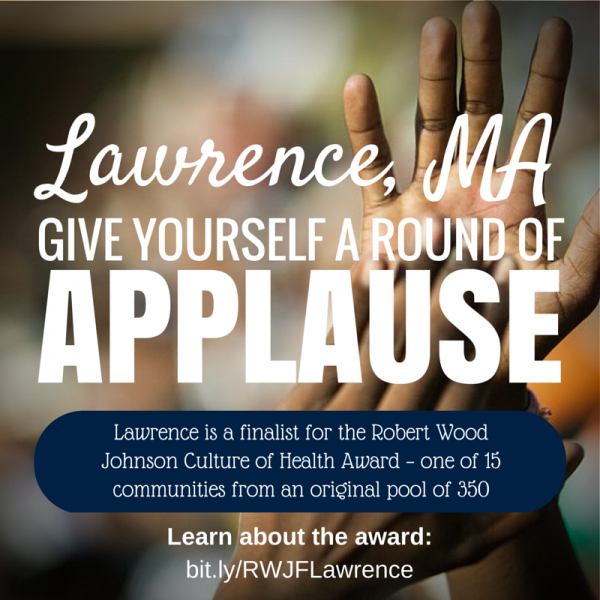 Community Health Efforts Recognized as Lawrence Advances in Prize Selection Process
LAWRENCE, MA (February 19, 2015)—The good news just keeps coming for Lawrence, which was chosen today as a finalist for the third annual RWJF Culture of Health Prize. As a finalist, Lawrence is one step further to the RWJF Culture of Health Prize which honors only a handful of communities from across the nation whose efforts illustrate an enduring commitment toward building a Culture of Health for all residents.
Selected from more than 340 communities across the country, Lawrence joins just 14 other finalist communities and only one other community from Massachusetts, Everett. The 10 winners will be announced this fall, with a site visit to Lawrence planned for the spring
"Lawrence, MA is excited to have advanced as a RWJF Culture of Health Prize finalist community," said Lawrence Mayor Dan Rivera. "We've recognized for years that health is about so much more than treating illness. It's about making sure that everyone has access to the services they need, to safe and affordable housing, to education and to employment, and that's what drives our commitment to creating a Culture of Health. We can't wait to showcase Lawrence during the upcoming Robert Wood Johnson site visit."
To earn Prize finalist status, Lawrence had to demonstrate how its efforts to improve health outcomes for residents reflect the six RWJF Culture of Health Prize criteria which include:
• Defining health in the broadest possible terms.
• Committing to sustainable systems changes and policy-oriented long-term solutions.
• Cultivating a shared and deeply-held belief in the importance of equal opportunity for health.
• Harnessing the collective power of leaders, partners, and community members.
• Securing and making the most of available resources.
• Measuring and sharing progress and results.
"The RWJF Culture of Health Prize finalists are transforming their communities to make them healthier places to raise a family, provide jobs, and educate their children," said Risa Lavizzo-Mourey, RWJF
president and CEO. "These inspiring finalists are one step closer to being named 2015 Prize winners this fall."
The RWJF Culture of Health Prize is one pillar of the County Health Rankings & Roadmaps program, a collaboration between the Robert Wood Johnson Foundation and the University of Wisconsin Population Health Institute. The Rankings show communities where they can improve; the Roadmaps show communities how to take action to expand opportunities for healthier choices, and the Prize honors communities that represent solutions-driven leadership at its finest. Together, these pillars serve as a platform for the Foundation's vision to build a Culture of Health, now and for generations to come. Find out more at www.rwjf.org and www.countyhealthrankings.org
###
Lawrence (www.cityoflawrence.com), population 77,000, is located 25 miles north of Boston and is truly a city of immigrants and industry. Lawrence was built in the 1840's as the nation's first planned industrial city. Known as the "Immigrant City", Lawrence has always been a multi-ethnic and multicultural gateway city with a high percentage of foreign-born residents, and has the largest Latino population in the Commonwealth.
To view a video as designed by Marc Lemay of the Greater Lawrence Family Health Center and submitted as part of the Culture of Health Application, visit http://youtu.be/b0DT4ZZNP9w.