Submitted by Brian on Tue, 2015-09-15 12:05
Joins Tsongas for her 9th Annual River Day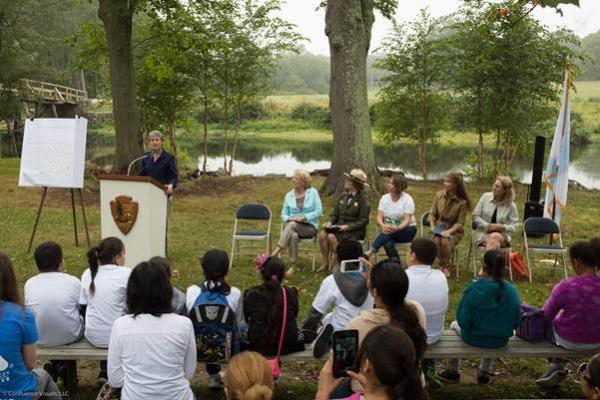 Sec. Jewell addresses students at Minute Man NHP; seated (L to R) Rep. Niki Tsongas, Nancy Nelson, Heather McMann, Anna West Winter, Alison Field-Juma
CONCORD, MA – September 14, 2015 – On Saturday, September 12, 2015, the U.S. Secretary of the Interior Sally Jewell joined Congresswoman Niki Tsongas for Tsongas' Ninth Annual River Day celebration. Rep. Tsongas hosts this event each year in various locations around the Third District to celebrate conservation efforts and the key role rivers play in the region's local economy, culture and preserving our environment.
"Congresswoman Tsongas understands the importance of rivers and historic sites in preserving our history and sharing our uniquely American story with future generations," said Secretary Jewell. "The Land and Water Conservation Fund has been a critical tool in protecting historic sites like Barrett's Farm House in Minute Man National Historical Park from the bulldozer, and preserving places like Lowell National Historical Park to better understand the role rivers played in powering our economy. The Land and Water Conservation Fund needs to be reauthorized and fully funded by Congress so this important work can continue."
Rep. Tsongas invited Secretary Jewell to participate in the events this year, which took place at Minute Man National Historical Park in Concord and Lowell National Historical Park in Lowell.
"Our rivers have served us well for centuries, powering the mills of the industrial revolution, sustaining our health by providing clean drinking water, creating tremendous recreational opportunities, and bringing natural beauty to our daily life. River Day brings people together to celebrate the great role our waterways play in connecting and contributing to our communities," said Congresswoman Tsongas.
River Day 2015 began in Concord, where the Secretary and Congresswoman paddled out on the Concord River along with members of the local conservation group OARS, as well Jamie Fosburgh, New England Director of the NPS Wild & Scenic River program and officials from the U.S. Division of Fishery and Wildlife.
"We were so pleased to welcome these two leaders to fully experience the connection between our communities and these rivers. The National Park Service has provided invaluable continuing support for our efforts to restore the health of these Wild & Scenic rivers through its partnership with local towns and non-profits. The image of the Groundwork Lawrence children marching up to OARS' Water Wise Workshop at the Old Manse led by the fife and drum corps was a marvelous image of what partnerships can do to get the next generation excited about environmental stewardship," said Alison Field-Juma, Executive Director of OARS.
The group landed at Minute Man National Historical Park where they were greeted by a group of 4th grade schoolchildren. The students came to the park from Lawrence, MA to participate in River Day and had a chance to talk with the Secretary and Congresswoman about the environment and conservation efforts. The organization Groundwork Lawrence coordinated the field trip for the Lawrence students to Concord and has worked on several occasions with the Congresswoman's office on conservation and economic development efforts.
Secretary Jewell and Rep. Tsongas then presented the students with year-long passes granting them and their families free access to all public lands and waters across the country (including National Parks), as part of the Obama Administration's "Every Kid in a Park" initiative. Congresswoman Tsongas' full remarks from the Concord event are included at the end of this press release.
"I am grateful and honored that Secretary Jewell was able to join us in Massachusetts on River Day to see firsthand the extraordinary beauty and historical significance brought together in our unique corner of America," said Congresswoman Tsongas. "Together we took the opportunity to recognize the organizations, volunteers and different levels of government working together to sustain and preserve the integrity of these resources, as well as to encourage the next generation to get involved."
Heather McMann, Executive Director of Groundwork Lawrence, said: "Groundwork Lawrence was very excited to coordinate the opportunity for Lawrence 4th graders and their families to meet U.S. Secretary Sally Jewell and Congresswoman Niki Tsongas. The combination of Congresswoman Tsongas' 9th Annual River Day and President Obama's 'Every Kid in the Park' initiative provided a great framework for Lawrence's youth to experience a national park while learning about our rivers and the importance of protecting the Merrimack River Watershed."
The Secretary and Congresswoman discussed the importance of rivers and conservation efforts and programs, including the urgent need for Congress to reauthorize the Land and Water Conservation Fund (LWCF).
"America's national parks and federal lands provide a mountain range of benefits to communities across the nation. I have seen it firsthand right here in the Third District of Massachusetts, home to two national historical parks and three federal wildlife refuges," said Congresswoman Tsongas. "So many Americans place enormous value on the ability to visit our public lands and our nation points to them with pride, which is why a substantial federal investment is essential to maintain and preserve them. The Land and Water Conservation Fund is a tool to do so, and I will be working with my colleagues in the coming weeks to urge Congress to reauthorize this critical program."
For more than 50 years the LWCF, which expires at the end of the month, has used revenues from the depletion of offshore oil and gas to preserve land and water resources, promote recreation and conserve open space for future generation in the face of development and urbanism. The LWCF does not cost taxpayer money or contribute to the Federal deficit.
The LWCF is responsible for preserving numerous natural and historic sites around the country, including the Barrett's Farm House on the grounds of Minute Man National Historical Park.
In 2005, the Barrett Farm House (built in 1705) was on the verge of collapse. The organization Save Our Heritage worked for 8 years to restore Barrett Farm, which was partly funded by a Department of the Interior grant, as well as local and private funding. Congresswoman Tsongas worked for several years to bring Barrett's Farm into the confines of Minute Man National Park. Congresswoman Tsongas worked to create Congressional legislation to expand the boundaries of Minute Man National Historical Park to include Barrett's Farm. That legislation was signed into law in 2009. In August 2012, the National Park Service obtained ownership of the Barrett House and surrounding 3.4 acres from Save Our Heritage utilizing LWCF funds. The Barrett Farm, a major storehouse for military weapons and supplies, played a critical role in the first battle of the American Revolution.
Anna West Winter, Executive Director of Save Our Heritage, said: "By saving our history, we expand our perspective and we enlighten our future. For 50 years the LWCF has fostered bipartisan public-private partnerships successfully supporting over 40,000 projects nationwide. These partnerships represent American collaboration at its very best. For every LWCF dollar of investment, the economic and private matching-fund payback is substantial. But the return on the human investment is profound. By utilizing the fees from oil and gas depletion, the LWCF serves to fuel the sustainability of our planet, our communities, and our physical and mental well-being."
During each of the past nine River Days, Congresswoman Tsongas has organized events in more than a dozen communities around the district, from Concord and Maynard to Lowell and Lawrence and Fitchburg, traversing each of the main rivers that form the region's important network of waterways. Congresswoman Tsongas has met with hundreds of environmentalists, business owners, students, volunteer organizations, local officials and constituents since she began hosting the event in 2007, to discuss how we can collaboratively protect and enhance these waterways for future generations.
In December, 2014 Congress passed a bill authored by Congresswoman Niki Tsongas that would take steps toward protecting the Nashua River. The Nashua River Wild and Scenic River Study Act (H.R. 412) authorizes the National Park Service (NPS) to conduct a study on the Nashua River and two of its tributaries, the Squannacook and Nissitissit Rivers, to determine their eligibility for designation as Wild & Scenic Rivers. The bill was then signed into law by President Obama.
On Saturday, Secretary Jewell and Rep. Tsongas also visited Lowell National Historical Park in Lowell where they took a boat tour of the river and canal system, spoke with students and conservation groups and presented additional "Every Kid in a Park" passes.
Rep. Tsongas is the top Democrat on the Natural Resources Federal Lands Subcommittee, which oversees national parks, forests and other federal lands.