Submitted by Brian on Thu, 2016-08-04 15:48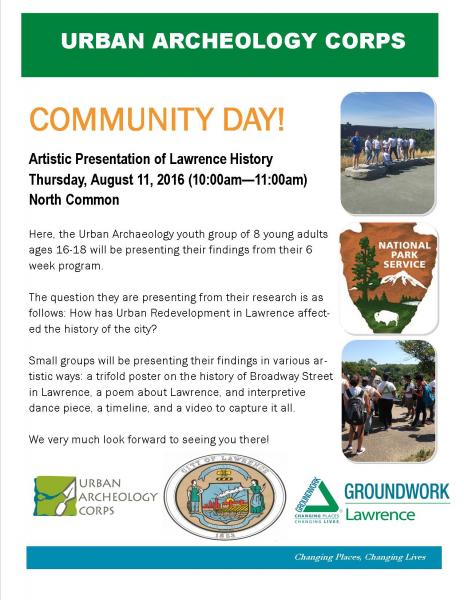 We are pleased to announce that Groundwork Lawrence's (GWL's) Urban Archaeology Corps (UAC) in partnership with the National Park Service (NPS) is having a presentation of their research to several city officials, NPS and GWL employees, and the mayor on Thursday, August 11, 2016 from 10:00am to 11:00am in the Campagnone Common (North Common).
At this event, the Urban Archaeology Corps, a youth group of 8 young adults ages 16-18, will be presenting their findings from their 6-week program.
The question they are presenting their research is as follows: How did the urban redevelopment efforts from the 1950s to the 1970s change the face of the city of Lawrence?
Small groups will be presenting their findings through various artistic media: a trifold poster on the history of Broadway Street in Lawrence, a poem about Lawrence, and interpretive dance piece, a visual timeline, and a scrapbook to capture the essence of urban redevelopment's effect on the community.
After a fantastic summer program of unparalleled discovery and research, we have decided to take advantage of a community day opportunity to show off our students' extremely hard work.