Submitted by

Anonymous (not verified)

on Mon, 2009-04-13 15:29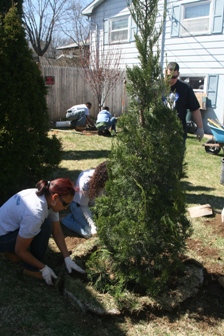 Two trees planted
Rose and the YouthBuild team started the day off with training on proper planting technique and then hit the ground running with 6 trees planted in the City. Today the YouthBuild crew all worked together to learn the do's and don'ts for the planting-starting tomorrow the group will be split into two crews for planting trees across the City. Give them a wave and thanks if you drive past them!
Other Information on this program:

The Home Depot Foundation is working to improve the health of communities by supporting the development of green affordable homes for working families. For more information, visit the website.

YouthBuild Lawrence is a GED education and carpentry training program developing young leaders and affordable housing in Lawrence.