Submitted by

Anonymous (not verified)

on Tue, 2009-04-28 09:59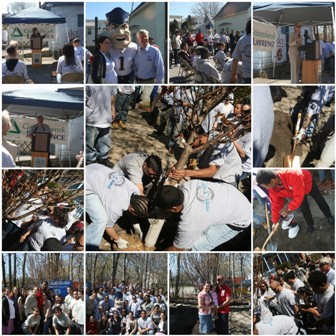 "I think that I shall never see/a poem as lovely as a tree" were the words by Joyce Kilmer that Representative Nikki Tsongas was reminded of on Friday April 24, Arbor Day, at our celebration of the 60 trees planted over the past two weeks. Senator Susan Tucker quipped, "On this Arbor Day I ask of thee, how many partners does it take to plant a tree?" Sunny weather welcomed friends of Groundwork Lawrence and our many tree planting partners to our celebration last Friday. Our partners and guests also included Department of Conservation and Recreation Commissioner Rick Sullivan; Frank O'Connor from the City of Lawrence; Juan Bonilla, Director of Homeownership Education for Lawrence Community Works; the amazing crew of YouthBuild Lawrence , Roland James from the New England Patriots Alumni, and the Nolberto family who received the cherry tree. We concluded the day with the 60th planting of a tree in Lawrence for this spring and almost our 400th tree since Groundwork Lawrence's inception. As Andre Gonzales of YouthBuild remarked, the tree-like the 59 others-was planted most importantly with love and care.
To read more about the GreenStreets program, click here, and to see more photos, check out our Flickr page.