Submitted by Brian on Thu, 2016-07-21 13:19
During the summer, GWL has a variety of youth education programs dedicated to raising the next generation of environmental leaders. 
| | |
| --- | --- |
| | Groundwork Lawrence touts our summer youth education programming with the beginning of the summer Green Team, where thirty youth work and serve to promote environmental advocacy, steward our parks, grow produce on the Costello Urban Farm, plan the Greenway 5K (register now!) and manage a stall at the Farmers Markets. Recently, Secretary Matthew A. Beaton of the Executive Office of Energy & Environmental Affairs visited and worked alongside youth in 80 degree heat as a testament to the Commonwealth's commitment to Green Team's mission. |
---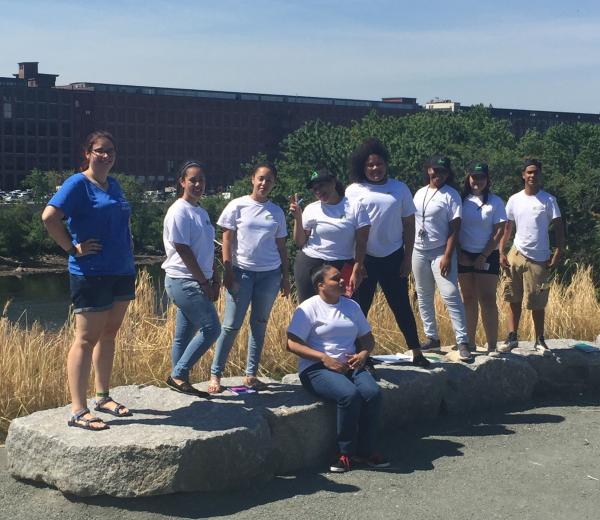 The Groundwork Lawrence Urban Archeology Corps has been hard at work learning the incredible history of their city and pondering deep questions regarding how Lawrence's past will shape its future. Urban Archeology Corps, a national NPS program, is comprised of eight youth who have been researching the history of the North Canal District based on the following question, "How has the history of urban development shaped the city?" Their investigations have led them to learning about immigration, technology and arts in Lawrence. 
Our students already have a stronger sense of their place in Lawrence's history and the importance of historical knowledge and public history education to the growth and health of the community. 
---
In our Urban Adventures program, GWL educators teach Boys and Girls Club of Lawrence youth about healthy eating and exploring the urbanscape around them. Recently, they were delighted to learn how to sort and recycle materials in order to make unique pieces of artwork. In addition, they have taken informative field trips to locations such as auto body shops and grocery stores in order to learn where waste is sent from businesses.

A major aspect of our Urban Adventures program is the implementation of a Social Emotional Learning component. We have 8 giant Emojii's  on the walls for basic emotions like fear, sadness, and anticipation. Students are then invited to play the Emojii game. A scenario is presented such as " Move to the Emojii that describes how you feel when your Mom says " Our family is going to Water Country today!" Students stand next to their Emojii and explain what they are feeling at the time. They feel safe and willing to communicate the context of their feelings. This was developed using Plutchik's Emotion Chart, converting them to Emojiis and then making it into a game. All because we have a talented group of creative educators working together!